Terminal York woman duped of £41k saved by kind builder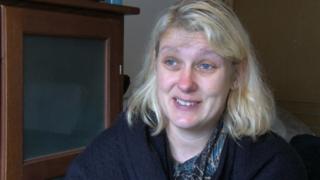 A terminally ill woman duped by a "cowboy" tradesman says she is "overwhelmed" after a builder repaired her house for free.
Sarah Ibbotson, who has Ehlers-Danlos syndrome, paid £41,000 to have her kitchen modified and a downstairs bathroom and bedroom built.
But she says the man she employed took her money and left the work unfinished.
Builder Roy Allen said his "heart sank" when he went to give a quote for repairs and instead did them for free.
"I've honestly never seen anything like it," he said. "I felt so sorry for her. What a drastic position she were in, I wanted to do what I can to help."
Mr Allen and his crew refitted doors and windows and mended the central heating, which was still not working after seven months.
He is now appealing for others trades-people to come forward and help for a day or two.
Ms Ibbotson, from Foxwood in York, paid for the work with a £39,000 disabled facility grant, plus £2,000 of her own savings.
Her condition affects connective tissues and she needs to use a wheelchair.
"I can't believe someone would do that to someone, especially with a disability," she said.
"It was a complete cowboy's job. The mess was incredible. The window was letting in rain and wind, it was freezing and it would have fallen out if I'd lent on it."
You might also be interested in:
The first builder told the BBC he is still in touch with Ms Ibbotson and plans to be back on site later this week.
"There are not enough words to say how grateful I am [to Mr Allen]," she added.
"It's overwhelming, there's no reason for them to be so kind. I'd just like the work finished so I can enjoy the bit of time I've got left."