Appeal after birds of prey shot in North Yorkshire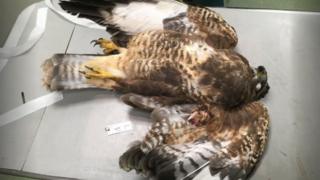 Two protected birds of prey have been shot in North Yorkshire.
A red kite was found dead near Wath in Harrogate and a buzzard was found injured in Riccall near Selby.
Wildlife officers said the buzzard had to be put down because the shots had shattered its collarbone, shoulder and humerus leaving it in immense pain.
Sgt Kevin Kelly of North Yorkshire Police said it was "privilege" to have such birds in our skies and appealed for witnesses to get in touch.
Police said the extent of the infection in the buzzard's wounds meant it had been been shot days before it was found on 8 November.
More stories from around Yorkshire
Sgt Kelly, from North Yorkshire Police's rural taskforce, said: "It's with much frustration that I again make another witness appeal regarding two birds of prey, that we are privileged to have in our skies, being mindlessly and illegally shot."