Endangered black rhino heads to Africa from Yorkshire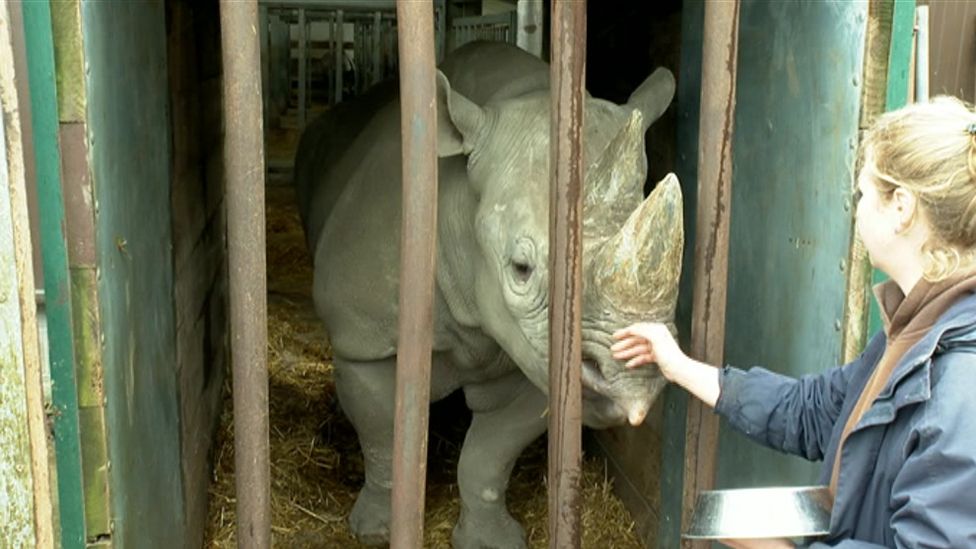 A rare black rhino is being sent from a North Yorkshire wildlife park to Africa as part of a conservation scheme.
Eight year old female Chanua will eventually be released into a herd of wild rhinos in Tanzania.
The black rhino is classed as critically endangered, with fewer than 6,000 in the wild due to poaching and habitat loss.
Sam De Belle, head keeper at Flamingo Land near Malton, said she had mixed feelings about seeing Chanua leave.
"They're not here to be our pets," she said.
"It's really sad to see anything go, but they are here to do a job, as we are. They are part of a conservation project."
Chanua was born at Chester Zoo in 2012 before being moved to North Yorkshire three years later.
She will spend a few weeks in Kent with other female rhinos before being flown to Tanzania. When she arrives in Africa she will have to be weaned off her captive diet and adjust to eating local vegetation before being released.
Gordon Gibb owner of Flamingo Land said it was the second black rhino from the park to be returned to Africa. Three years ago another female was sent to Rwanda.
"It's extremely important work to us," he said
"Those two releases represent a one percent increase in the total world population levels. So extremely rewarding for myself personally and the team and testament to their dedication and hard work."
According to the World Wildlife Fund, the black rhino came close to extinction.
Demand for its horn from China, where it is used in traditional remedies, saw poaching drive numbers down by 98% between 1960 and 1995, leaving at that time fewer than 2,500 animals.
Related Internet Links
The BBC is not responsible for the content of external sites.