Covid: Wife's death in pandemic 'eats away' at widower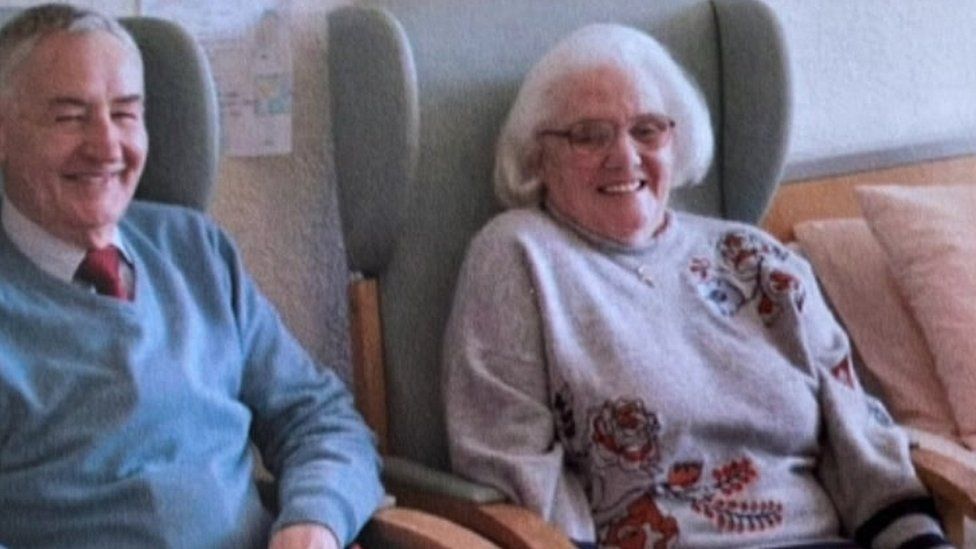 The widower of a woman who died in a care home as Covid took hold in the UK says it "eats away" at him that he could not see her more before she died.
Reg Kemp, who married wife Liz in 1963, saw her each day for three years at a Scarborough nursing home until Covid rules halted visits in March 2020.
Due to the restrictions, he was only allowed one final visit to see her four weeks later, on the day she died.
Mr Kemp, 84, said he still felt his wife's presence "all the time".
Mrs Kemp, who died aged 79, had dementia and was cared for at Saint Cecilia's Nursing Home in the North Yorkshire seaside town.
On 11 March 2020, Mr Kemp could no longer continue with his daily visits to his wife due to Covid restrictions.
He did not see her again in person until 6 April, the day Mrs Kemp died.
He said: "They put the protection on me, I went to her room and stood by her bed with her. The wonderful nurses were coming and holding her hand.
"She was trying to speak but she couldn't. I don't know how much she would have understood, and then I left. It was upsetting.
"They then rang me at nine o'clock that night to say she'd passed away."
Ten residents at the care home died around this time, with Covid a confirmed factor in some of the deaths.
Mr Kemp said: "The only consolation is she was getting the best possible care, but what I'll never ever know is what she was thinking, why weren't we visiting her."
"That's what eats away at you a little bit, I couldn't go and see her."
Almost a year on from his wife's death, Mr Kemp said: "I think about her all the time. I think she's with me all the time - I don't think people leave you like that."
Liz Kemp is survived by husband Reg, their son and two granddaughters.