Ryedale Ritual Bronzes: Roman artefacts sell for £185,000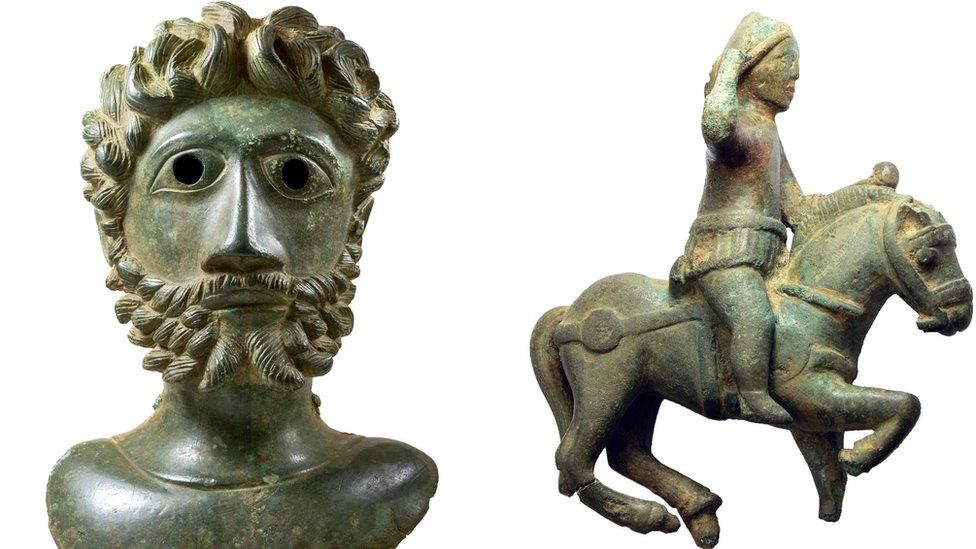 A set of Roman religious artefacts unearthed by a pair of metal detectorists has been sold at auction for £185,000.
The treasure hunters found the 2,000-year-old hoard in Ryedale, North Yorkshire, last May.
Known as the Ryedale Ritual Bronzes, the collection includes a bronze bust of the Roman Emperor Marcus Aurelius.
Auctioneer Charles Hanson said the sale, which doubled the estimated price, was "an extraordinary result".
"It was an honour to auction these fascinating historical items - antiquities which had not been seen for 1,800 years," he said.
"This was a lot like no other. It provided a tantalising insight into Roman life centuries ago."
As well as the 6in (13cm) bust, which would have been mounted on the head of a priest's sceptre, the hoard contained an equestrian statuette of the god Mars, a horse head knife handle and a large bronze pendulum.
Born in AD 121 in Rome
The son of Emperor Hadrian's nephew
Succeeded his uncle Antoninus Pius in AD 161
Ruled for 19 years
A series of personal writings, Meditations, earned him a reputation as a philosopher
Died in AD 180 and was succeeded by his son Commodus
The items were found by James Spark and Mark Didlick, who will split the proceeds of the sale with the landowner.
Mr Spark, from York, said they had gone out for the day after lockdown restrictions had been relaxed in May 2020.
After little success he suddenly got a "great big signal" on his metal detector.
"We started digging away together on our knees and when we turned out the bust it was just laid on the ground looking up at us after 2,000 years," he said.
Mr Spark said he believed the historical value of the find was more important than the price it fetched and had been taken aback by the initial valuation.
"It was shocking, I was blown away. I am still a bit shocked," he said.
Adam Staples, historical expert at Hansons Auctioneers, said the items had been probably buried as a religious offering and he was "thrilled" for the finders and landowner.
Related Internet Links
The BBC is not responsible for the content of external sites.