Ultra marathon record-breaker shares secrets of Pennine Way success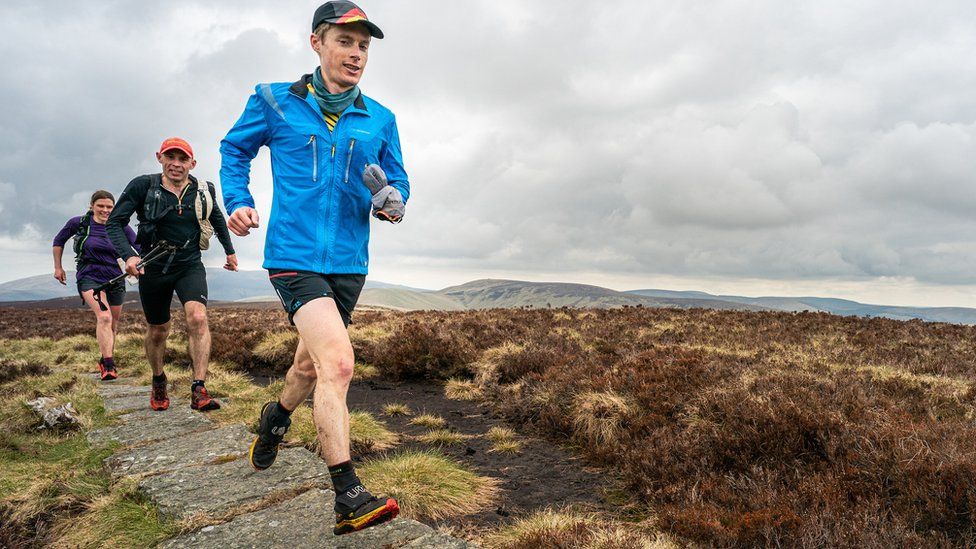 Ultra-marathon runner John Kelly recently broke the record for one of Britain's toughest endurance challenges, conquering the punishing 260-mile Pennine Way route in under 60 hours. He says his success is down to years of extreme training, weeks of planning, and one or two Pot Noodles.
There is no prize at the end. There is no novelty cheque or trophy. But being known as the fastest was reward enough for John Kelly, who has just reclaimed his crown as the king of the Pennine Way.
The trail, which runs down the spine of Britain from the Scottish Borders' Kirk Yetholm to Edale in Derbyshire's Peak District, would take an experienced hiker more than two weeks to complete. It took John 58 hours and four minutes.
Between starting on Saturday 15 May and finishing on Monday evening, John says he took "two naps of about 10 minutes each".
It is not the first time John has held the record for the route. He set a new fastest time last summer, beating the previous best that had stood since 1989. A week later, his friend and fellow athlete Damian Hall bettered John's time by more than three hours.
As he recovers from his most recent feat at home in Somerset, he says the Pennine Way first appealed "as a great challenge that could really test the outer limits of what I'm capable of".
"It looked to be an enjoyable route and a great way to explore the new country I was living in," he says.
On his latest run he faced hail, rain and strong winds across Yorkshire, with boggy moorland near Britain's highest pub, The Tan Hill Inn in North Yorkshire, proving a challenge. But the views across the Dales made up for the extra effort needed to keep the record in sight, John says.
"You get to some just absolutely beautiful parts of the country with gorgeous views and a good variety in the landscape. It's something that for me is not like anything I've experienced in the US where I grew up."
Stopping for just a few minutes at a time to take on calories, John said he fuelled himself with junk food, including Pot Noodles and rice pudding. During a race he eats "whatever he can get down", giving his body the salt and protein it craves.
"It's a lot of what you'd expect from most sports nutrition products where it's quite carb-heavy, a lot of sugar," he says.
Despite his planning, he said he felt "pretty bad" towards the end of the challenge and started to go into a "dream state" from of a lack of energy. Some ultra-runners can hallucinate as their bodies crave sugar, oxygen or sleep.
"One of my support runners had bright yellow shoes so I fixated on following them across whatever ground he took me across," John says.
John's previous experiences have equipped him for the Pennine Way. He was the last person to complete the Barkley Marathons - a 100-mile looped race that needs to be completed in 60 hours. It has an elevation equivalent to climbing up and down Mount Everest twice.
His training is similar to that of a marathon runner but with an "enormous" amount of planning, including checkpoints, a support team and clothing for whatever the weather throws at him.
Having broken the Pennine Way record by some three hours this year, John says he is "content" with the time. For him it is less about holding the record but pushing himself to the limit of what he can physically and mentally do.
"If Damian goes back out or someone else goes out and breaks it, then that's great and I'm glad I can be part of that progression," he says.
He will recover at home but is already planning other races for this year, providing he is injury-free and can catch up on his sleep.
"That first night, I rarely get a full night's sleep. Your body is still pretty hopped up on adrenaline and everything is aching," he says.
"That second night is usually when I'm just out cold and sleep for like 12 hours without moving a muscle."