North Yorkshire council shake-up will create 'dog's breakfast'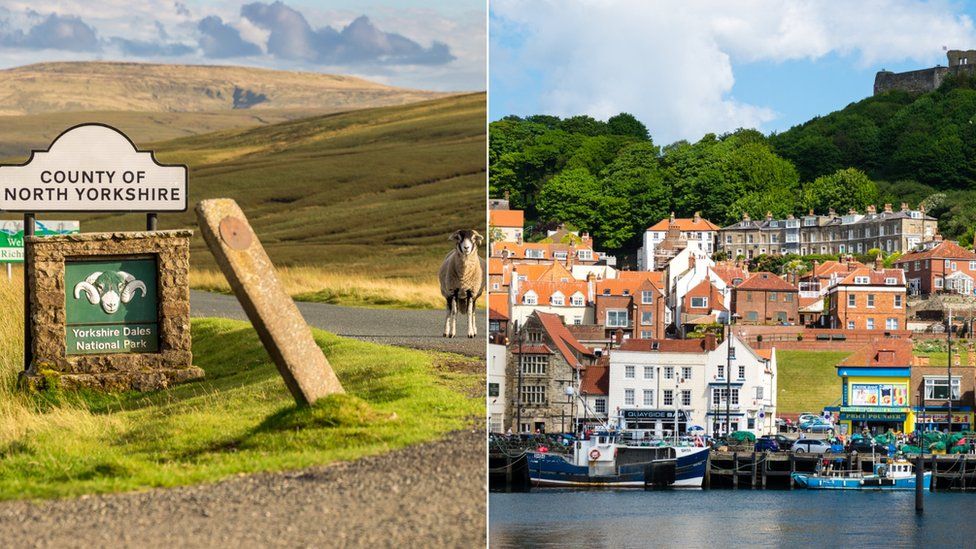 Merging North Yorkshire's county and district councils into a single super-authority will be a "dog's breakfast" according to one leader.
The replacement for the current two-tier system will see key services, including bin collections, delivered by the new county-wide body.
One of his Conservative opponents said it was not a time to be "negative".
Currently, services including social care and education are run by North Yorkshire County Council, while districts look after services such as planning and bin collections.
It is expected that the new council will deliver all public services in the county from April 2023.
The City of York Council, which became a unitary authority in the 1990s, will not come under the new council.
Scarborough Labour group member Mr Siddons had supported the creation of two new unitary authorities - one in the east of the county, including York, and one in the west.
The idea was supported by six out of seven district councils, the majority under Conservative or independent control, with the county council, also Conservative-controlled, supporting a single authority.
Mr Siddons said the decision meant the creation of an extremely large council, "bigger than any other in the country", surrounding the much smaller York.
"My prediction is that York will inevitably be swallowed up by this mega-county. A dog's breakfast springs to mind," he said.
They're going to need a fresh logo - a brand new council is coming to North Yorkshire and it is going to be a big one.
Although having two councils providing different services can be confusing for residents, questions are being asked about whether one single authority, stretching 100 miles (160km) from Settle to Scarborough, can provide the local decisions those places need.
More than 600,000 people will pay their council tax to the new authority.
Those in favour have said it will make things easier - existing North Yorkshire residents will only have to deal with one council and one councillor rather than two.
Opponents said the other option of two unitary authorities, one in the east and one in the west, would have been more manageable.
Interestingly, that option has been granted to Cumbria, but not to North Yorkshire.
And in the future they will be running themselves in very different ways.
Announcing the decision on Thursday, Secretary of State for Housing, Communities and Local Government Robert Jenrick said he did not consider the two-authority proposal met the government's criteria for a successful model.
The new North Yorkshire Council will cover a population of 618,000. The City of York council area has a population of 211,000.
Heather Phillips, the deputy leader of the Conservatives, said it was time for the supporters of both alternatives to put aside their differences and work together.
"Now is not the time to be negative, it is the time to grasp the opportunities offered by local government reorganisation," she said.
However, Mr Siddons said he would work to get the best deal for council staff and residents, but did not believe the proposal was good for local governance.
"I fear this is not a good day for democracy, but I hope I am proved wrong."
The new authority is expected to be in place by April 2023, subject to parliamentary approval, with elections taking place in 2022.
Related Internet Links
The BBC is not responsible for the content of external sites.