Woman's 4ft-long dreadlocks shaved for baby loss fundraise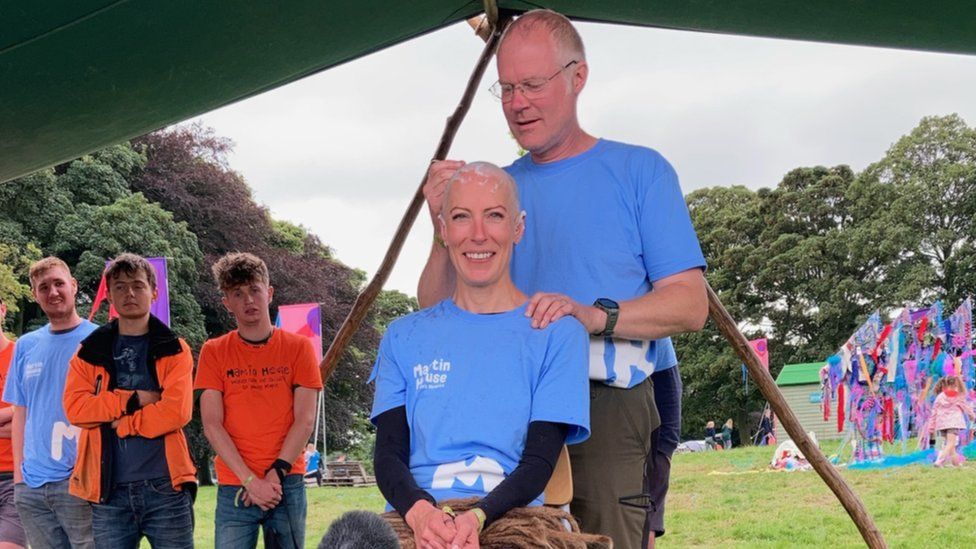 A woman whose baby son lived for only two days has shaven off her knee-length dreadlocks to raise money for a charity that helped with her loss.
Jessica Herbert's son Oaken was diagnosed with the genetic disorder Edwards Syndrome during pregnancy.
Mrs Herbert, who raised about £21,500, said it was "an incredible journey".
A crowd of spectators at the Deer Shed Festival, near Thirsk, watched as the arboriculturist's 11-year-old dreadlocks, which measured 4ft 2in in length, were chopped off by her husband Simon.
During the 40-minute cut, she said tearfully: "It's too late to go back now."
"They've come to represent a really important part of my identity," Mrs Herbert said.
"They have character and they just feel like me."
She said she was "really nervous" but there was "no turning back" as she wanted to raise money for Martin House hospice after the "wonderful" support and treatment she and her family had received during their difficult time.
The couple, who have a daughter called Willow, knew Oaken was unlikely to survive after finding out about the chromosome problem, also known as Trisomy 18, at Mrs Herbert's 12-week scan.
The family previously said how they felt lucky Oaken was born alive, despite weighing only 3.5 pounds.