North Yorkshire: 'Unrelenting' staffing pressures in social care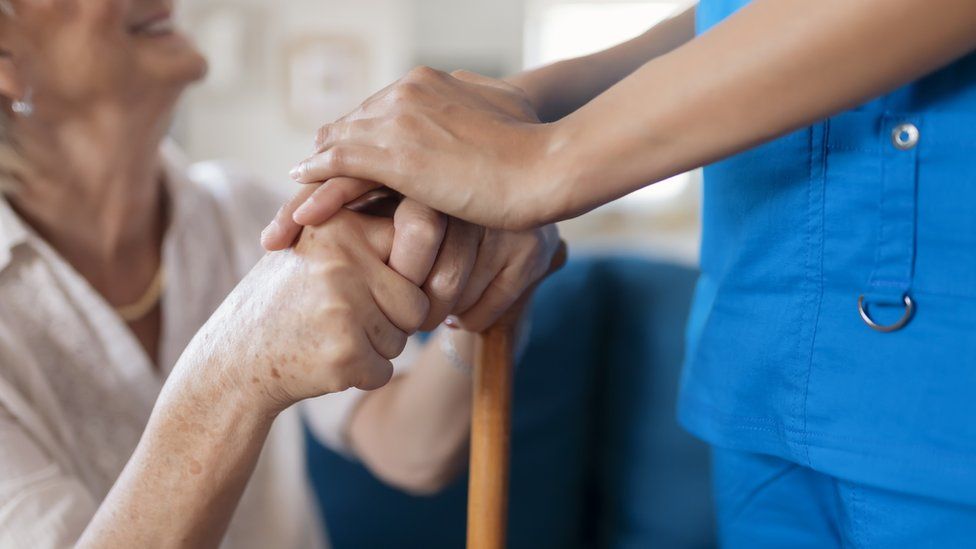 Social care in North Yorkshire is facing "unrelenting" staffing pressures after a recent drop in the number of people coming forward for vacant jobs.
Richard Webb, the county council's director of health and adult services, said applications were down by 70%.
He said there were currently about 1,000 vacancies across 500 organisations in the county.
The health director said long-standing NHS staffing issues had been exacerbated by the Covid-19 pandemic.
Speaking at a meeting of the North Yorkshire Local Resilience Forum, Mr Webb described the pressures as the most significant he had seen during 25 years working in social care and the NHS.
"We have seen a real tipping point over the last four to six weeks, particularly as the wider economy has reopened," he said.
"What we are seeing is fierce competition between care services, hospitality, retail and other sectors for people to fill jobs.
"We have about 1,000 vacancies in social care across North Yorkshire - that's not just us, that's the 500 organisations that provide care in the county - and we have seen a 70% drop in applications for those jobs in the last few weeks."
'Approaching crisis point'
Nationally, social care looks after about 400,000 people in care and nursing homes - three times the number in NHS hospital beds, the Local Democracy Reporting Service said.
About a further 640,000 people receive care in their own homes.
Independent Care Group (ICG), a non-profit organisation providing services in York and North Yorkshire, is calling on the government to accelerate plans to overhaul the sector.
Mike Padgham, ICG chair, said: "We are approaching a crisis point where there simply won't be enough people to go out and provide care to people at home and to those living in care and nursing homes.
"Care providers are facing a daily battle to cover home calls and care home shifts and it can't go on."
Mr Webb added: "In North Yorkshire, we are as well placed as anywhere to deal with some of these pressures, but they are pretty unrelenting".
Last month the Department of Health and Social Care said in a statement said: "We are committed to the sustainable improvement of the adult social care system and, as set out in the Queen's Speech, we will bring forward proposals later this year to ensure every person receives the care they need, provided with the dignity they deserve."
Related Internet Links
The BBC is not responsible for the content of external sites.