The Yorkshire Dales village still without TV reception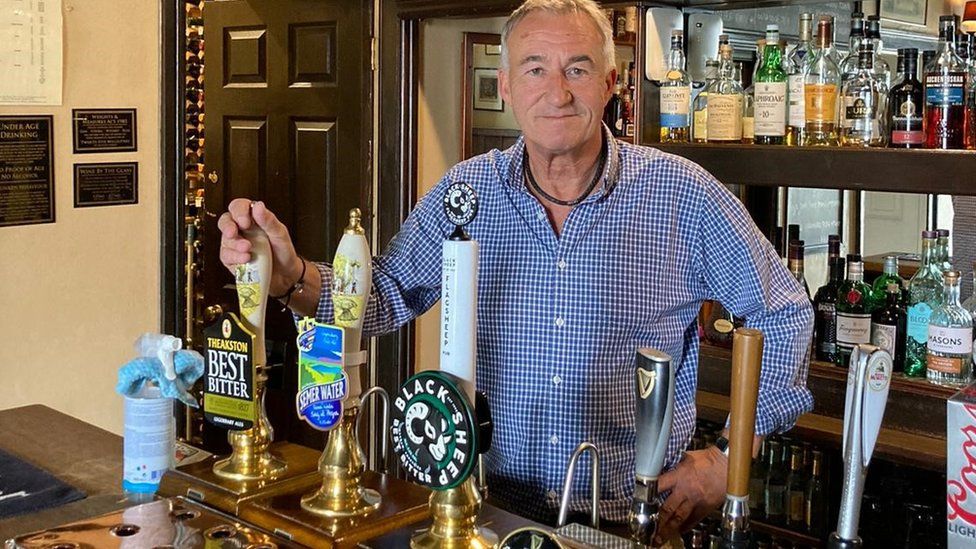 One month ago, the television screens of a million people went blank when a transmitter suffered catastrophic fire damage.
Hundreds of thousands of people in Teesdale, North Yorkshire and County Durham have had their service restored but many still can't get a signal.
In the Yorkshire Dales village of East Witton, broadband already has its shortcomings and now TV is widely unavailable as every aerial points to the broken transmitter.
Liz Rawling is one of several people who have spent their own money to solve the problem.
"I haven't been able to get any television at all until I bought a new television, a smart television, that I can go through the broadband," she said.
"It's not good enough. The money we pay for the licence, it's horrendous.
"There are so many old people that rely on the television. They put it on in a morning and it's on until they go to bed."
Betty Yare has lived on her own since her husband died of Covid-19 last year.
She decided to stump up the £175 for a Freeview sat dish to be installed, to combat her loneliness.
"It's much better if you've got something to watch really, because I only have a cat and he can't answer me," she said.
"So it's better to pay and have a television going."
At the Blue Lion Inn a few doors away, owner Paul Klein hasn't just got one TV that doesn't work - he has 16.
"It's like hot water isn't it? You don't advertise you've got it," he said.
"It's been an absolute nightmare because when customers check in, we do inform them that the TVs aren't working, but of course that's never quite enough.
"They seem to expect everything to work."
Beryl Raine from the village is without a TV, and relies on reading on her Kindle for entertainment.
"It would go on at teatime, and even if it's just on in the background, it's there, it's company," she said.
"Normally I would knit on a night and watch the television at the same time, but I can't knit and read at the same time.
"Now we are into September, we're going into October, it's going to be dark nights. I do hope they're going to get this transmitter up and running."
The refunds will be offered to people who have been unable to receive TV coverage for more than a month, and who are unable to view BBC programming via BBC iPlayer and on cable and satellite platforms.
Operating company Arqiva said it looked likely the existing mast would have to be dismantled, and it plans to build an 80m-high temporary mast on nearby land.
But it has had to seek approval as it is a Site of Special Scientific Interest.
Chief Executive Paul Donovan said: "I want to apologise again to those who people who have had their services disrupted by the fire at Bilsdale Mast; and especially to those who rely on television for companionship."
He added restoring the service was a "complex task" and it was working towards it as "quickly and safely as possible".
A spokesman for Arqiva said it hoped 90% of services would be restored when the temporary mast was in place in about three weeks' time.