Teen beauty queen's TikTok account blocked over acne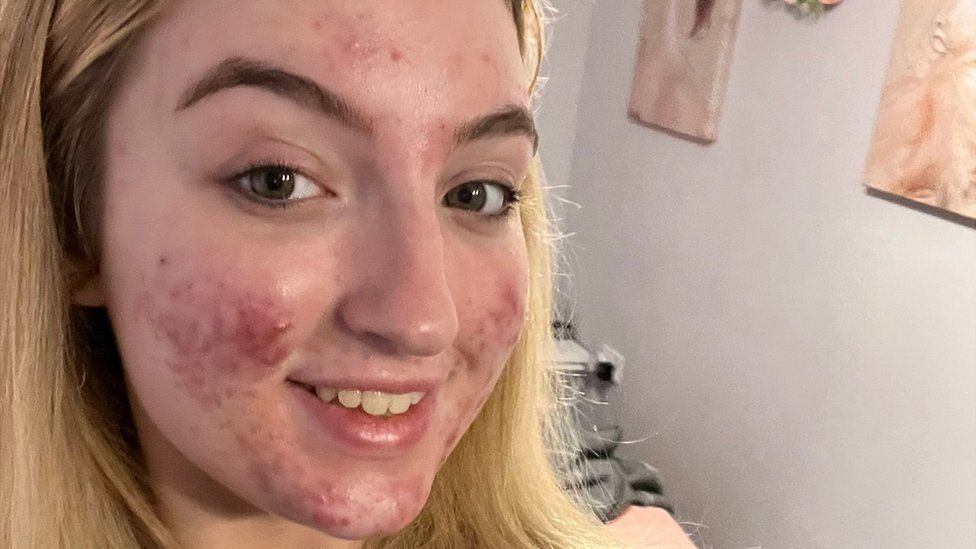 A 16-year-old beauty queen has said her TikTok account was shut down because her acne was branded as "gruesome content".
Eva, from Easingwold, North Yorkshire, said its decision had made her determined to challenge perceptions about the common skin condition.
"Just because you have blemishes on the outside, it doesn't mean you are not beautiful," said Eva.
TikTok said it had reviewed the decision and reinstated the account.
Eva said she created the TikTok account to offer encouragement and advice to others because acne "doesn't define who you are".
However, her initial account was deleted with no warning as it had failed to meet the company's guidelines.
"It didn't fit them because of my skin, because it was gruesome content," the reigning Miss Teen Galaxy York told BBC Radio York.
The teenager said she wrote an email to the company, and did not let the situation discourage her.
"I didn't let it bring me down and I created the account again the next day and made it even better."
In a statement, TikTok said it was driven to provide a "platform for creative authentic self-expression".
"We are open about the fact that we don't get every moderation decision right and have reinstated Eva's account," a spokesperson said.
"We hope Eva continues to use TikTok to offer encouragement and advice to others, and to share her story."
Eva said she had suffered from acne for more than two years.
"I used to have really cystic acne all over my face, it went from my cheeks down to my chin.
"It was really bumpy and it was really hard to cover up."
She said initially it had got her down and she did not want to leave the house.
Acne is very common in teenagers and younger adults - about 95% of people aged 11 to 30 are affected by acne to some extent
Acne is most common in girls from the ages of 14 to 17, and in boys from the ages of 16 to 19
Most people have acne on and off for several years before their symptoms start to improve as they get older
There are six main types of spot caused by acne ranging from blackheads to cysts
Cysts are the most severe type of spot caused by acne; they are large pus-filled lumps which look similar to boils and carry the greatest risk of causing permanent scarring
Although acne cannot be cured, it can be controlled with treatment - severe acne may require medication only available on prescription
Acne is caused when tiny holes in the skin, known as hair follicles, become blocked with oil and dead skin cells.
Medical treatment has helped and Eva said that had prompted her to share her journey.
"My aim is for people to be aware that non-clear skin is normal.
"Just because you have blemishes on the outside it doesn't mean you are not beautiful."
Eva is currently Miss Teen Galaxy York and is due to compete in the national finals in March. She also won the UK Junior Miss competition, holding the title until July 2022.
She said her acne had never been an issue within the pageant world, which she said was very inclusive.
"No-one really says anything in pageants because they all accept you for who you are not what you look like," she said.
Eva's older sister Olivia had competed in pageants and initially she had no intention of following in her footsteps.
Eva said: "I was the girl who never wanted to do a pageant, but then I saw how much she grew in pageants and what friendships she made and what she was doing for her causes and I was like 'I think I should really give that a go'."
She said pageants were more about contestants' charity work than their looks. Eva fundraises for Mind and cancer charities.
If she is successful in March, she will compete at an international level in the US.