Helicopter crashed into hawthorn tree and caught fire after rapid descent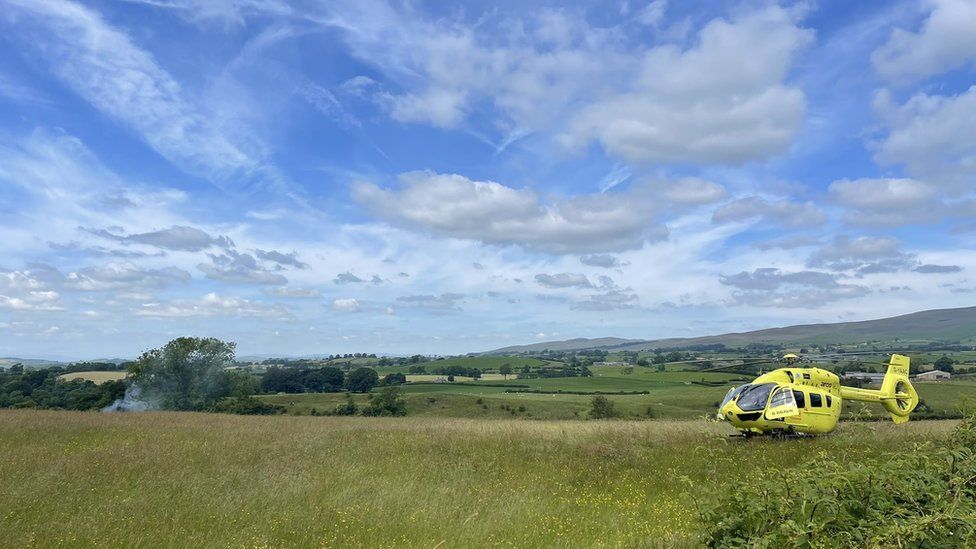 Investigators have been unable to establish what caused a helicopter crash that killed two people.
Pilot Ian Macdonald, 66, and Admarsu Birhan, 16, died after the aircraft hit a tree near Burton in Lonsdale, North Yorkshire, on 20 June 2022.
But there was insufficient evidence to establish what caused the tragedy.
Mr Macdonald was a resident of Burton in Lonsdale while the teenager - a German national - had been living locally as part of a farming exchange programme, a local councillor has previously told the BBC.
The pair were flying in a Guimbal Cabri G2 helicopter and were coming in to land when the crash happened at about 11:00 BST, investigators at the AAIB said.
Mr Macdonald, who owned the aircraft and was an experienced pilot, had been taking Admarsu out for his first helicopter flight, the report said.
They took a route around the Lake District, on a trip that lasted roughly an hour and 20 minutes.
While coming in to land, investigators said that the helicopter began to twist to the left before the nose dropped and the aircraft descended into a hawthorn tree.
Witnesses reported that the engine remained running and the wreckage caught fire. Both Mr Macdonald and the teenager were fatally injured.
The AAIB report said: "The evidence recovered in this investigation was not sufficient to determine the cause of the accident."
It concluded that the most likely causes of the crash were a mechanical failure, an incorrect pilot response to unexpected conditions, an inadvertent input from the passenger or medical incapacitation of the pilot.
Related Internet Links
The BBC is not responsible for the content of external sites.