Ilex get four new board members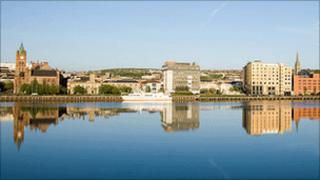 Four new Board members have been appointed to Ilex Urban Regeneration Company in Londonderry.
Ilex was established in July 2003 to promote the physical, economic and social regeneration of the city.
It was specifically tasked with the development of two former security bases, Ebrington and Fort George.
Dame Geraldine Keegan, Margaret Lee, Frank Hewitt and Colm McKenna took up their posts as Non-Executive Board Members on 1 July.
The appointments were made for the Office of First and Deputy First Ministers and the Department of Social Development.
Deputy First Minister Martin McGuinness said they joined Ilex at a "critical time in taking forward the regeneration efforts in the city of Derry".
First Minister Peter Robinson said the appointments were "good news" for Derry.
"The experience, expertise and skills of the new members combined with their personal drive, determination and focus on delivery will be an asset to the company," he said.