Tag row 'sparked police car axe attack' in Ballymena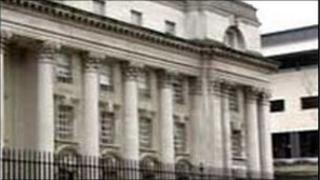 An axe attack was launched on a police car in Ballymena with a female officer inside due to a row over an electronic tag, the High Court has been told.
Prosecutors claimed William Ward, 44, smashed the windscreen after his friend was denied permission to remove the device and stay out longer.
Mr Ward faces a number of charges over the incident in Ballymena's Doury Road estate on 11 July.
The accused, from Kew Gardens in the estate, was refused bail.
Two officers caught up in what a judge described as "a quite terrifying set of circumstances" were left badly shocked, but uninjured.
Mr Ward faces charges of possessing an offensive weapon in public, criminal damage, attempted grievous bodily harm with intent, and assault on police.
A co-accused is alleged to have been carrying a machete during the attack.
'Axes and swords'
Tessa Kitson, prosecuting, said the constables went to Mr Ward's home when he contacted police just after 0100 BST claiming carloads of men armed with axes and swords had threatened him.
She told the court Mr Ward emerged holding a long-handled axe, while a co-accused brandished the machete, after one of the officers got out of the car.
Despite being ordered to drop what he was carrying, it was claimed Mr Ward repeatedly struck and shattered the windscreen.
Both suspects were later arrested after police backup arrived.
During questioning Mr Ward claimed he was drunk and thought it was terrorists in the car, the court heard.
But Mrs Kitson said police believe the attack was launched because Mr Ward's co-accused had been denied permission to take off his tag so he could stay out longer.
'Deep regret'
Charles McCreanor, defending, said Mr Ward deeply regretted what had happened and had asked him to apologise on his behalf.
Mr McCreanor disputed claims that it was a drunken act of anger, stressing instead that his client believed he was under threat.
"He said earlier that day he thought that someone in a car pointed a gun at him as he drove past his house," the lawyer said.
"When an unmarked police car drove up... he thought he was being attacked."
Lord Justice Girvan said the accused was facing serious charges "arising out of what appears to have been a quite terrifying and totally unacceptable set of circumstances in which an axe was used to smash a police car".
Refusing bail, the judge added that a new application could be made if appropriate arrangements for dealing with Mr Ward's alcoholism were provided.