Guns find in New Lodge police murder bid probe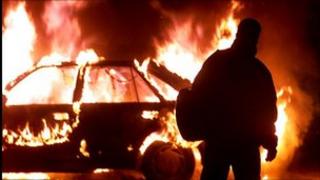 Police investigating the attempted murder of three PSNI officers during 12 July riots have seized guns in north Belfast.
Eleven replica and blank guns and other paramilitary equipment was found during a search at a house in the New Lodge area on Friday.
It followed a gun attack during nationalist riots on 12 July.
Two men, aged 27 and 35 were arrested on Thursday for questioning about the shooting. They were released on Friday.
Meanwhile police investigating trouble in north Belfast this week have recovered a handgun and ammunition.
They were found during a search of a house in the Ardoyne area on Friday night.
A police spokesperson said a 49-year-old woman has been arrested in connection with the trouble in the area.
She is being questioned at the Serious Crime Suite at Antrim Police Station.