Soldier Gary Prout gives bravery medal to museum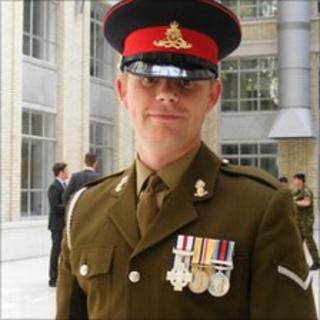 A soldier who braved enemy fire attempting to save a comrade has presented his gallantry medal to a military museum.
Lance Bombardier Gary Prout, from Lisburn in County Antrim, was awarded the Conspicuous Gallantry Cross earlier this year after risking his life fighting the Taliban in Afghanistan in March 2009.
L/Bdr Prout presented the medal to Major General Richard Barrons, chairman of Firepower, The Royal Artillery Museum during a ceremony on Saturday at the Ministry of Defence.
Accepting the medal on behalf of the museum, Maj Gen Barrons said: "This medal is a very significant addition to the already fine and impressive collection of medals on display at the Royal Artillery Museum.
"Its recipient, Lance Bombardier Prout, demonstrated that gallantry is not something that can be only found in the pages of history books.
"When museum visitors view the medal they will be reminded that the Royal Artillery Museum and the men and women whose stories it tells is as much about what is happening in the world today as it is with the regiment's celebrated and glorious past."
The museum plans to display the rare award alongside L/Bdr Prout's Iraq Medal and Operational Service Medal (Afghanistan) at its base at the Royal Arsenal in Woolwich, south-east London.
As a member of 19th Regiment Royal Artillery, L/Bdr Prout received the award for bravery while patrolling an area of Afghanistan which the Talban had heavily fortified with improvised explosive devices.
When one of his comrades was hit by an explosion and left stranded in the open, L/Bdr Prout broke cover and, in view of the enemy, went to help a colleague administer first aid, then drag him to the safety of medics.