Laser liquidation sale made £767k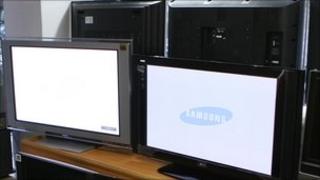 The closing down sale of the failed Laser electrical goods chain raised £767,942, the administrators report has shown.
After expenses and commission, just over £650,000 was available to be returned to creditors.
The company collapsed in April with the closure of ten stores and the loss of 140 jobs.
The administrators from financial consultancy KPMG held a closing down sale shortly afterwards.
They hope to raise a further £750,000 from the sale of property.
The bulk of that money will go to Ulster Bank, which was Laser's source of finance.
Dozens of unsecured creditors who are owed more than £2m between them have been warned they are unlikely to get anything.
Competition
Those creditors are mainly electrical goods companies but the list also includes broadcasters and newspapers with whom Laser advertised.
The administrators report also casts more light on what led to Laser's demise.
It said that the company's business was hit by increasing competition from online and multi-national retailers as well as the economic downturn.
A number of suppliers had their trade credit insurance in relation to Laser stopped meaning the company had to deal on a cash basis with those suppliers.
Then, in January, Ulster Bank reduced the firm's overdraft and the directors made an unsuccessful attempt to sell the business before the administrators were appointed in April.