Gun and ammo found under decking at woman's home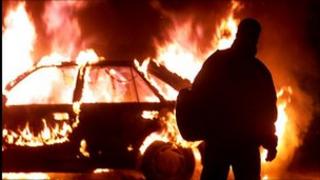 A woman has appeared at Belfast Magistrates Court charged with having a gun and ammunition.
Norma Elizabeth Crowder from Butler Walk was arrested by police investigating rioting in north Belfast last week.
The 49-year-old denied knowing anything about a loaded revolver and ammunition, which police said were found under decking in her back garden.
She was granted bail and will appear again in court next month.
The court was told her home was a short distance from the Ardoyne shop fronts.
There was several nights of serious rioting by republican youths, in the area following an Orange Order parade past the shop fronts on the 12 July.
Police claimed the revolver was found in a hide which formed part of decking in the back garden of her property.
During questioning, a PSNI officer said police believe the decking was either built as a hide or had been adapted for that purpose.
He also confirmed the German revolver contained six live rounds, with a quantity of other ammunition also recovered.
Just over £1,400 in cash was seized from Crowder's home, while a bank account contained around £7,000.
A defence solicitor said the money came from two road traffic injury compensation claims.
He also stressed that his client consistently denied knowing anything about the gun during questioning.
As part of the bail conditions, the judge imposed a night-time curfew and electronic tagging.
He also ordered her to report to police three times a week and to surrender her passport.