'Tar-and-feather threat' to woman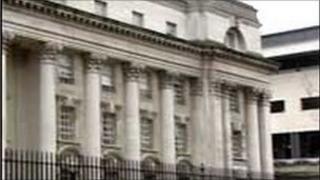 A man threatened to have his pregnant ex-partner tarred and feathered, a High Court bailing hearing has been told.
Prosecution lawyers claimed Gareth Hyndman, 34, told her he would "put her in pain" so she would lose the baby.
Mr Hyndman, of Larchfield Gardens, Kilrea, County Londonderry, faces charges of aggravated assault, threats to kill and assault on police.
The judge said he was turning down the bail application due to the risk of any further offences being committed.
A Crown laywer said Mr Hyndman, in a menacing phone call, warned she would be dead within the hour after she refused to get back with him.
He said the woman claimed Mr Hyndman arrived at her home on 12 July and made a gesture of putting a gun to his head and pulling the trigger.
Two days later he made the phone call in which he threatened that the victim - who is more than 30 weeks pregnant - would be tarred and feathered, it was claimed.
Mr Hyndman's lawyer told the court his case was that the woman made the phone calls to him.
"The applicant disputes utterly that he made any threat to this lady," the lawyer said.
Refusing bail, Mr Justice Weir said the risk of further offences was too great.