Carson, the hurler on the plinth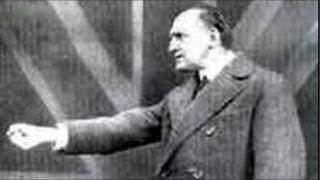 A new Gaelic games challenge has taken its name from a rather unlikely source - the founding father of Ulster unionism.
Competitors in the first hurling event in the Stormont estate in Belfast - a place steeped in the historical trappings of British rule in Northern Ireland - will be playing for the Edward Carson Trophy.
On face value, the Dublin-born barrister who led the campaign against Irish independence a century ago is an unusual choice for anyone looking to christen a prize for the quintessentially nationalist sport.
However, Sinn Fein MP Gerry Adams, who has helped organise the inaugural "Poc ar an Cnoc" (puck on the hill) which will take place below Carson's famous statute in Stormont next month, thought otherwise.
"I discovered, much to my surprise, that Carson was a hurler in his days at Trinity College (Dublin)," he explained at the launch of the event in Parliament Buildings.
'Distinguished'
"So this man who is arguably the father of unionism was also a Gael and I thought that was an interesting concept.
"When Carson was playing for this hurling club at Trinity he got an honourable mention in the Irish Sportsman (journal of the day) as having distinguished himself on the field so we thought it would be a great idea to have an Edward Carson trophy.
"This notion of Gaelic sports being in any way for one section of people here, I think once you just lift the lid of it (that's not the case) and hopefully one of the good things that may come out of all of this is that it will be received positively and favourably and people will embrace it."
Some historians have disputed whether Carson played hurling, believing he instead played the game of "hurley", imported from English public schools and similar to hockey.
The Poc Fada (long puck) will see hurlers young and old hitting sliotars (hurling balls) up the mile-long Prince of Wales Avenue that leads to Parliament Buildings.
While hurling is now played within the confines of a pitch, the origins of the Poc Fada reach back into Irish folklore to the legend of Ulster warrior Setanta, who whacked a sliotar ahead of him as he marched to war - and such was his speed he would catch it before it hit the ground.
"Hopefully we will see somebody from the unionist community up here," said the West Belfast MP.
"I intend to invite as many of them as I can up during the summer break."
The event is being held in aid of the City of the Angels Foundation, a charity that works in a major shanty town in the Brazilian city of Sao Paulo.