Man questioned over murder case intimidation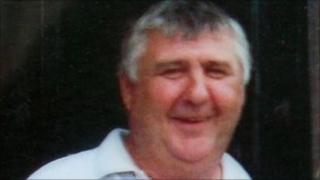 Police investigating the murder of Catholic father of four Kevin McDaid in Coleraine last year have arrested a 21-year-old man.
He is being held on suspicion of intimidation and is being questioned at the police station in Coleraine.
Mr McDaid was beaten to death in a suspected sectarian attack in the town in May 2009.
Earlier on Tueday another man accused of intimidating a witness in the murder case was refused bail.
Antrim Magistrates Court heard that Jonathan Stirling, 21, of Windyhall Park, and a friend confronted the witness outside a DHSS office on 29 June.
An officer said the witness was allegedly told to drop the charges. The witness claims she was told: "You'll be where Kevin is before the Twelfth."
The officer said later that evening, the witness saw the men near her home close to the Heights area of Coleraine.
The officer confirmed that there were 37 suspects in the murder of the Catholic community worker, who was attacked by a gang close to his home on 24 May 2009.
Thirteen people have since been charged in relation to his murder but all are on bail.
A solicitor said that as his client was not involved in the murder investigation, there was "nothing to be gained" in issuing threats.
Refusing bail, the district judge said interference with witnesses was "a serious matter" and "those who have information should be able to give it freely".
The accused will appear in court again next month via videolink.