Body of slain Northern Ireland soldier flown to England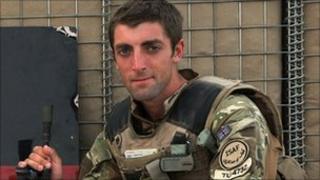 The body of the Northern Ireland soldier who was killed in Afghanistan has been flown to RAF Lyneham in Wiltshire.
Members of Lieutenant Neal Turkington's family are at the repatriation ceremony in the town of Wooton Bassett.
Lieutenant Turkington, from Portadown, was one of three soldiers killed by a renegade Afghan soldier last week.
He was serving with the 1st Battalion The Royal Gurkha Rifles in Nahr-e Saraj, Helmand province.
The bodies of the three soldiers arrived at RAF Lyneham at about 1100 BST.
Their families are spending some private time with them before the coffins are driven through Wooton Bassett at about 1400 BST.
Courageous
After his murder, Lt Turkington's family said one of his proudest moments had been when he heard he had been commissioned to join the Royal Gurkha Rifles.
"He felt honoured and privileged to serve with such distinguished, courageous and loyal men," a family statement said.
"He was relentless and steadfast in his pursuit of those causes he believed in with his passion for making a difference whatever the circumstance.
"We are all so proud of him - we couldn't have asked for a finer son, brother and friend."
The soldier's commanding officer, Lieutenant Colonel Gerald Strickland said: "He was a courageous and determined platoon commander who was already known across the battalion as a man who could be trusted.
"I could not have asked for a better officer."
Captain John Jeffcoat, of the Royal Gurkha Rifles said the lieutenant had loved his men as much as they loved him.
"His humility and humour endeared them to him from the off, loving every single moment of leading his men through thick and thin."
Another lieutenant in the regiment, Tom Baker, said the battalion had lost "its most committed and intellectual subaltern".