Managing sex offenders in the local community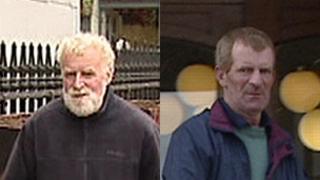 The case of two brothers who abused children in a Fermanagh village for over 30 years but were declared unfit to stand trial is almost unique.
James and Owen-Roe McDermott were given lifetime orders banning them from being with children, and a two year treatment and supervision order placing them in the care of social services.
They are living in their own home in Donagh, close to children's play areas and where their victims and their families live.
Two other brothers were also charged with abusing children. In total the four brothers, from Moorlough Road in Donagh, faced 60 charges of abuse spanning five decades.
John McDermott was jailed for nine years in June for the abuse, which was described as frequent, regular and persistent.
A fourth brother, Peter Paul McDermott took his own life during his trial on abuse charges involving two young boys.
Up until October 2008, sex offenders were managed in the community by MASRAM, an oversight body for a number of different agencies.
Category 1 risk
It was then replaced with a new umbrella body, known as the Public Protection Arrangements for Northern Ireland (PPANI).
As a result of the Criminal Justice Order 2008, a number of different agencies, including police, probation and social services, now have a statutory obligation to work together, sharing information in relation to offenders, assessing the risk that they pose, and developing and delivering risk management plans.
There are a number of different ways to manage the risk posed by sex offenders.
Sexual offences prevention orders (SOPOs) are one of the tools available, and licence conditions can also be applied when individuals are released from prison, but every case is considered individually.
Sex offenders living in the community are assessed as either a Category one, two or three risk.
The risks presented by those assessed as Category 1 are not subject to multi-agency risk management.
Instead the risk management plan which is required will be determined and delivered by a single lead agency.
This could be the Probation Board for Northern Ireland, NI Prison Service, Youth Justice Agency, PSNI or a social services trust.
Psychosexual therapy
In the case of the McDermott brothers, they have been classed as a Category one risk and are under the care of the Western Health Trust and the PSNI.
Because the brothers are under a treatment and supervision order, the Western Trust is legally required to offer psychosexual therapy to the McDermott brothers.
They are also subject to a sexual offences prevention order under the Sexual Offences Act 2003 and their compliance with the terms of the SOPO will be closely monitored by PSNI .
Both brothers are prevented from having any unsupervised access or association with any young person under 16.
As part of their SOPO conditions, they are also banned from certain areas designated on a map given to both brothers.
They are also not allowed to undertake any activity in a paid, private, voluntary of charitable capacity which affords them access to any young people under 16.
If the lead agency has a serious concern about the behaviour of an offender, they can refer the case back to a local area public protection panel for further risk assessment.
This may result in the risk classification being increased which will mean that the individual then becomes subject to multi-agency risk management.
'Critical few'
Offenders assessed as Category 2 risk will be subject to an agreed multi-agency risk management plan which will be delivered by professionals from the various agencies operating on-the-ground at local level.
Offenders who are assessed to pose the greatest risk, are classified as Category 3 or sometimes referred to as the "critical few".
They will be monitored subject to multi-agency risk management plans which will normally include a wide range of often quite punitive actions to restrict undesirable behaviour and to encourage the offender not to re-offend.
Such plans require close inter-agency support and co-operation and are, of necessity, resource-intensive and expensive.
Under the new arrangements, all risk management plans for those assessed as Category 3 risk of serious harm are delivered at an operational level by a central, co-located public protection team which provides a dedicated and specialist resource.
This is complemented by local agency involvement on the ground.
PPANI said the vast majority of offenders in the community comply with their risk management conditions, because they understand the implications of not doing so.
But they caution, that the decision to re-offend, or indeed to offend in the first place, is a personal choice made by an offender as an individual.