Sash remark employee killed two brothers in 1975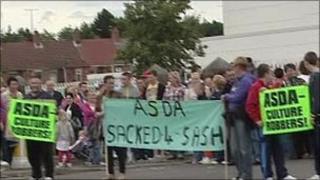 An Asda employee dismissed for a "throwaway remark" involving the loyalist song, The Sash killed two brothers in 1975.
William Hunter, who was employed at a branch in Belfast, was sacked last Friday over his alleged comments.
His dismissal led to several days of protests outside the store.
After Mr Hunter was reinstated on Tuesday, it emerged that he served 14 years in prison for the murder of John and Thomas McErlane.
The Catholic brothers were shot as they played cards with Protestant workmates.
Independent process
Asda said Mr Hunter was re-instated to the Shore Road branch following an independent appeal in front of senior Asda representative.
In a statement the supermarket said William Hunter had expressed regret for the unintentional offence caused by the words he used when speaking to customers at the store.
Asda said it has a "rigorous" and "independent" process that gives every member of staff, the right of appeal, heard by someone independent of the original circumstances.
"Asda is not a political company that ever takes sides," the statement added.
"It works hard to foster a welcoming environment for all colleagues and customers, whatever their backgrounds."
The company said it along with William Hunter and other staff members were looking forward to "drawing a line" under what happened and getting back to the business of serving customers.
The Sash commemorates King William's victory at Battle of the Boyne in 1690 and is played at loyalist parades.
It has caused controversy in the past, with critics claiming that it contains sectarian sentiment.