Nama challenge features NI loans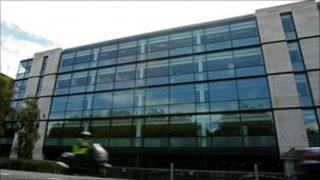 It has emerged that many of the loans which the property developer Paddy McKillen is trying to prevent being moved in to the Irish Republic's "bad bank" relate to developments in Northern Ireland.
The bad bank, known as the National Assets Management Agency or Nama, was set up by the Irish government to help save the Dublin-based banks which have been crippled by the property crash.
Nama is buying from the banks, at a discount, all property development loans of more than 5m euros.
That should improve the banks' balance sheets and ultimately allow them to start lending more.
Although Nama is thought of as a way of removing "toxic" loans from the banks it is also taking over good or "performing" loans - those which are being repaid and earning money.
Mr McKillen's barrister told the High Court in Dublin on Monday that 80m euros of his loans which Bank of Ireland intends transferring to Nama are performing.
Mr McKillen says it would cause him reputational damage if Nama take over those loans as it would wrongly associate him with other developers who are in a much worse financial position than him.
Apartments
His barrister said a transfer to Nama would have a "drastic and significantly detrimental" impact on his business and property rights.
The legal action is being taken in Mr McKillen's name and 15 of his companies.
Six of those companies are registered in Northern Ireland: Belfast Office Properties, Finbrook Investments, Connis Property Services, Dellway Investments, Formcrest Construction and Abey Developments.
According to Companies House documents the firms are co-owned by Mr McKillen's low-profile business partner, Padraig Drayne who is from Donaghmore in County Tyrone.
Belfast Office Properties, Finbrook and Connis are related companies which developed offices close to Belfast Central Station in the late 1990s and early 2000s. Their developments included Waterfront Plaza which is best known as the local headquarters of PricewaterhouseCoopers.
Recently filed accounts show that as of September 2009 the three companies had a joint loan facility from Bank of Ireland and Ulster Bank totalling £221m.
Abey Developments built the Custom House Residence apartment development in Belfast and is currently suing a number of people who have failed to complete the purchase of flats agreed at the height of the boom.
It is connected to Dellway and Formcrest, along with a number of other GB registered companies. Together these companies have £29.5m loan facility with Bank of Ireland.
Mr McKillen's challenge to Nama is due to continue in Dublin's Commercial Court on October 12.