'Iced tea alert' at NI Assembly's Stormont building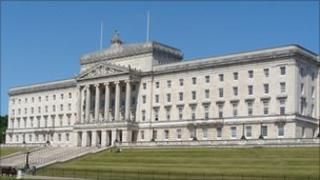 A suspicious package left on the steps of Northern Ireland's Parliament Buildings in the early hours of Wednesday was found to contain a bottle of iced tea.
The police were called at 0345 BST after a man entered the grounds of Stormont and left a bag at the front door of the building.
The bag contained the tea, alongside two sticks.
A search of the grounds was carried out by police and nothing else was found.
The intruder, who was wearing dark clothes and a straw hat, has also not been found.
The Northern Ireland Assembly, which is on its summer recess, meets at Parliament Buildings.
The buildings are set far back from the main road and surrounded by park land.
In November 2006 the loyalist killer Michael Stone got into Parliament Buildings, armed with a knife and home made bombs.
He was restrained by security staff before he could attack anyone. He later told police he had intended to kill Sinn Fein leaders Martin McGuinness and Gerry Adams.