Fianna Fail recruits NI Water man Pat McParland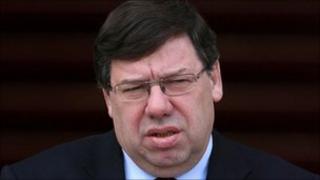 A senior executive at Northern Ireland Water has been appointed director of communications by the Fianna Fail party in the Irish Republic.
Pat McParland is currently director of corporate affairs with NI Water and was previously head of communications.
Fianna Fail is the dominant partner in the Republic's coalition government with the Green Party.
Last month, an opinion poll in the Irish Times newspaper showed support for Fianna Fail had dropped to 17%.
That placed it behind Labour on 32% and Fine Gael on 28%.
The party's post of director of communications has been vacant since Gene McKenna retired in February.
Mr McParland's full job title is deputy general secretary with responsibility for communications.
Fianna Fail said as deputy general secretary he would "play an important role in the party's senior management team".
The party's general secretary Sean Dorgan said: "We are determined to significantly improve and extend the quality of our communications work and we decided to expand the role traditionally played by the party's head of press and research.
"I am delighted that we are in a position to appoint a person of Pat's skills and experience to this important position."