DJ Greg James reaches out to Belfast Radio 1 audience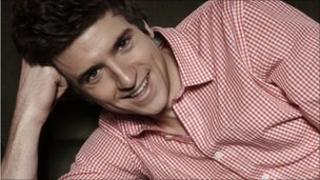 Talent, hard work and plenty of luck are needed to make it as a DJ, says BBC Radio 1's Greg James.
Engaging with your listeners is also vital, he says, and to prove it he is coming to Belfast on Friday to present his afternoon show.
Joining him in the studio will be a select band of local fans, who signed up on his programme website to get a first-hand look at how the show works.
"We're doing this thing Feet Up Friday where we invite a load of listeners in to have a tour of Radio 1, sit in on the show and take part in a few games; it should be brilliant," he says.
"We're taking the show on tour to various BBC centres across the UK; I absolutely love Belfast and jump at any excuse to get to Northern Ireland. It's just nice to get out of London really."
The 24-year-old already has 10 years of broadcasting experience, having made his first tentative steps at the age of 14 on hospital radio.
Ahead of his 1300-1600 show, James will answer questions and offer advice to young wannabe DJs in the city on Friday morning as part of the Trans arts festival.
He advises anyone wanting to pursue such a career to be persistent.
"It's all about making a nuisance of yourself, but in a good way; if you're prepared to work for free and be in for long hours, it's worth it," he says.
"The best thing to do is get as much work experience as possible. I began at my local BBC station and that was absolutely the best thing to do; I learned so much.
"People always say it's really hard to get a job in the media, and it is, but if you work hard and are dedicated you can do it."
His rise to daytime Radio 1 may have been rapid - his first 4am show on the station went out the day after he graduated in drama - but he realises how lucky he has been.
"Anyone who has a dream job who thinks they got it without luck is deluded. You have to go out there and work for it, but luck is very important," he says.
"If you put yourself about and are dedicated, people will give you opportunities and take a chance on you. That's what happened with me."
While Radio 1 DJs from the early days of Tony Blackburn and Noel Edmonds through to Chris Evans in the 1990s revelled in the showbiz lifestyle, James says his approach is more down-to-earth.
"In the last 10 years, Radio 1 has changed and what the audience expects is things that relate more to normal people.
"They don't necessarily want the showbizzy, party-animal antics that you might have got during the 1990s.
"They react more if you're a normal person who tells stories which relate to them.
"Of course, there's a little bit of showbiz glamour, with big guests and a few parties, but people expect a more audience-focused station.
"That's what I love about the idea of getting the audience into the studio - there's no better interaction than getting them into the show."
Modern audiences have so many more distractions and there's no more waiting for hours to hear that amazing new song again, but James says the future of Radio 1 is bright.
"If people want to listen to back-to-back music, they'll put their mp3 player on; I know I do sometimes, but if you want proper new stuff that you can't get hold of at the moment, or a big interview with a movie star, a silly little game or a bit of nonsense, then you know to come to Radio 1.
"We offer something different to what a CD or mp3 player or even other radio stations can offer.
"We're allowed to talk a lot more, we're allowed to spend longer with guests, we're not bound by advertising or commercial interests; our sole aim is to try and give the listener as much as they can.
"I've got very high hopes for its future - Radio 1 is in an amazing position at the moment. The new schedule seems to be working out really well and it's a very happy place to work. You can't argue with 11 million listeners."