Donagh abuse brothers in hospital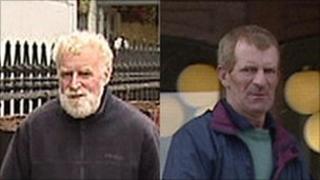 Two brothers at the centre of an abuse scandal in Donagh, County Fermanagh have been admitted to a psychiatric unit.
The Western Health Trust said James and Owen-Roe McDermott had entered a facility on a voluntary basis.
They were allowed to return home to the village in June after they were declared mentally unfit to stand trial.
Survivors of the abuse welcomed the move but said it would not solve the problem in the long-term.
Between them, four McDermott brothers, from Moorlough Road in Donagh, faced 60 charges of abuse spanning five decades.
John McDermott was jailed for nine years in June for the abuse, which was described as frequent, regular and persistent.
Peter Paul McDermott took his own life during his trial on abuse charges involving two young boys.
The other two brothers, James and Owen, were given lifetime orders banning them from being with children, and a two-year treatment and supervision order placing them in the care of social services.
'Decent thing'
Survivors who attended a public meeting on Monday issued a statement following the brothers' admittance to hospital.
It said: "While we welcome the decision taken by the extended McDermott family, we don't believe it was a situation that should have developed in the first place.
"We are also very aware that the admittance for treatment is voluntary and means that the McDermott brothers are free to leave at any time.
"We realise that the family were put in a difficult position but this is down to failings in the law.
"While the decision gives a much needed reprieve to all concerned it doesn't solve the whole problem.
"The law still needs to be changed and we need a permanent solution to this issue for the wellbeing of the community and all involved."
The Donagh Community Forum said the move would give provide "much-needed breathing space".
Sinn Fein MP Michelle Gildernew said it was better for the brother's welfare and that of the local community that they were in hospital.
"The fact that these two men continued to live in Donagh, in such close proximity to various amenities for the children was an absolute disgrace.
"The people of Donagh, and their victims in particular, have hade to live under the shadow of this for decades, and it is only right that their abusers have done the decent thing and moved on," she said.