Trust doctor in child obesity intervention warning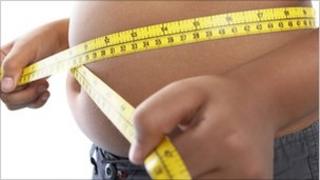 A leading Belfast paediatrician has echoed calls for child protection services to intervene in the most serious cases of child obesity.
Dr Daphne Primrose, consultant paediatrician with Belfast Trust child protection team, said that parents who fail to act face intervention.
She said that where obesity caused mobility problems or emotional difficulties, parents needed to work with the authorities.
One in five four-year-olds is too fat.
"Where a child comes to harm as a result of being overweight - such as mobility problems or emotional issues relating to that - that in my view constitutes neglect," Dr Primrose said.
"I suppose parents would need to be warned that if they fail to work alongside us then that could mean child protection services becoming involved with all that entails."
Last year, the Fresh programme, a joint initiative by the Belfast and South Eastern health trusts, helped around 140 children who are overweight.
Those involved say the problem is becoming so serious they are considering enrolling children who are starting primary one.
Dr Primrose was speaking after a a leading paediatrician in the Irish Republic made a similar appeal.
Dr Edna Roche contributed to a British Medical Journal article about whether the parent or the state should be responsible for an obese child.