Woman airlifted from Carrick-a-rede island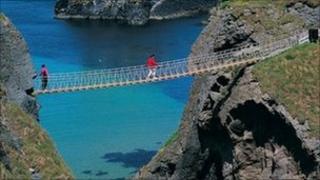 A tourist had to be airlifted from Carrick-a-rede island in Country Antrim after she fell and broke her leg.
The 67-year-old English woman had crossed the rope bridge onto the island on Thursday morning when she stumbled on rough ground.
The Ballycastle Coastguard rescue team called in a Royal Navy rescue helicopter from Prestwick in Scotland to airlift her off the island.
The helicopter then took her to the Causeway Hospital in Coleraine.
Ciaran Kinney from Ballycastle Coastguard said rescue by helicopter was the best option.
"Extraction across the rope bridge by stretcher would be very difficult, the helicopter is easiest and safest way," he added.