President McAleese hits out at dissident 'wreckers'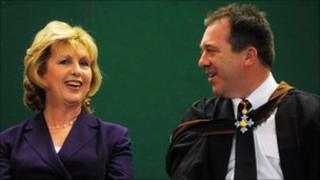 The Irish president has hit out at dissident republicans during a PSNI graduation parade in Belfast.
President Mary McAleese made the comments in a keynote speech at the ceremony for new police officers on Friday.
She told the officers they were still vulnerable to the "tiny minority of wreckers who set their faces against the humanly decent dynamic of peace."
She said they would be enthusiastically welcomed by the majority of NI people.
She warned, however, that they were still "vulnerable" to attack.
Mrs McAleese is from Ardoyne in north Belfast, which earlier this month saw days of rioting after a disputed Orange Order parade through the area.
'Heartache'
She said the 41 Police Service of Northern Ireland (PSNI) graduating constables at the police training college had been given a resounding vote of support by their senior commanders.
"On this day we think with respect of all those who have honoured that trust, those who have paid with their lives and their health, and the families that live today with loss and heartache," she said.
"We think of you, today`s graduates, holders of that trust, commencing your careers, welcomed enthusiastically by the vast majority of citizens, still vulnerable to the tiny minority of wreckers who have set their faces against the humanly decent dynamic of this peace."
This is Mrs McAleese`s second time at a PSNI graduation ceremony, the first being in January this year.
She told the new officers that they faced real challenges.
"You face a local context of ongoing sectarianism and inter-communal strife but against an encouraging backdrop where so many people at community level are trying hard to turn the tide of history in favour of this precious peace," she said.
Overhauled
"Today you join the journey into peace not as passive spectators but as active leaders."
The PSNI was established in 2001 following a 1999 report by a commission led by Lord Chris Patten which overhauled policing in Northern Ireland.
The PSNI`s predecessor, the Royal Ulster Constabulary, faced opposition from some nationalists and lost 303 officers during the conflict with republican and loyalist paramilitaries.
PSNI constable Stephen Carroll, 48, was killed by the Continuity IRA last year and others have been injured by paramilitaries since then.
Mrs McAleese said there was also support for the PSNI in the Irish Republic with Garda Commissioner Fachtna Murphy branding an attack on one force an attack on both earlier this year.