Man charged after raid in Belfast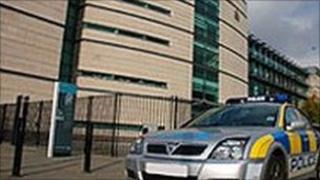 A 33-year-old man has appeared in court charged in connection with producing Class B drugs, cultivating cannabis and having Class B drugs with intent to supply.
Wenbo Cai, with an address in London, was arrested after police searched a house in Salisbury Street in Belfast on Friday. Police seized £5,000, computers and documents.
The charges relate to the discovery of 330 cannabis plants at the Cloisters in south Belfast in June. Mr Cai was remanded in custody until 6 August.
Two other people arrested following the search of the house in Salisbury Street on Friday remain in custody, assisting UK Borders Agency staff with enquiries into alleged immigration offences.