Asda writes to victims' brother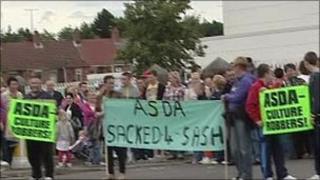 A director of Asda has written to a man whose two brothers were killed by one of its employees in 1975.
The letter was sent to Gerard McErlane on Friday after he raised concerns following the reinstatement of Asda worker William Hunter on Tuesday.
Mr Hunter, employed at an Asda store in north Belfast, had been sacked last Friday over alleged comments about the loyalist song, The Sash.
His dismissal led to four days of protests.
After Mr Hunter was reinstated on Tuesday, it emerged that he had served 14 years in prison for the murder of John and Thomas McErlane.
Asda Director of Customer Services Helen Milford said in a letter to Gerard McErlane that she wanted to address specific concerns he had raised in a telephone call on Wednesday.
This included reassurances about the welfare of Catholic staff and customers at Asda stores, whether there was a record of Mr Hunter's conviction on his job application form and "concern about shopping at Asda because of the decision to reinstate Mr Hunter".
On the issue of the welfare of Catholic staff and customers in Asda stores, Ms Milford said that it had stringent policies in place that are there to protect all of its employees, and that it took its responsibilities "very seriously".
"We have asked our people, if they are concerned, to speak with their manager or call our confidential colleague relations telephone number and we have re-stressed this face-to-face with all of our people in recent days," she said.
"In terms of allaying the concerns of our customers, I want to be clear that we are not a political company, and never take sides."
On the issue of whether there was a record of Mr Hunter's conviction on his job application form, Ms Milford said that when Asda acquired the Belfast Shore Road store from "Safeway/Morrisons" in 2005 all employees who worked there transferred to it under legislation that protects "peoples' employment status when a company is acquired by another".
'Sensitive'
She said there was also official guidance issued to all employers when it came to "extremely sensitive and important matters like this".
She said the most recent advice to employers in Northern Ireland from the Office of the First Minister and Deputy First Minister stated that "any conviction for a conflict related offence that pre-dates the Good Friday Agreement (April 1998) should not be taken into account unless it is materially relevant to the employment being sought".
Ms Milford said Mr Hunter had been reinstated based on Asda's normal disciplinary process which "considered the facts surrounding his original dismissal".
"That independent appeal in front of a senior Asda representative, who was unconnected to the original circumstances, found that he should be reinstated," she added.
"His background, or indeed the protests at the store in favour of his reinstatement, played no role in that appeal."
Ms Milford said she could not "begin to imagine how distressing the news of recent days must have been" to Mr McErlane.
She said the director of Asda responsible for its NI operations was willing to meet Mr McErlane to explain its position and to continue to listen to his concerns.
Mr McErlane told UTV on Saturday evening that he would only be satisfied with a meeting with Asda's chief executive.