Alex Higgins: Tributes paid to talent of 'Hurricane'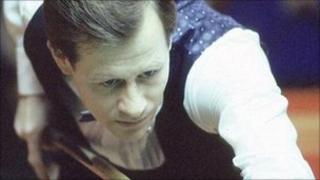 Tributes are being paid to two-time world snooker champion Alex Higgins, who has died after a long battle against throat cancer.
Higgins, 61, was found dead in his flat in the Sandy Row area of Belfast on Saturday.
The Belfast man won the world title in 1972 and 1982.
Dennis Taylor said: "I don't think you'll ever see a player like in the game of snooker like the great Alex Higgins."
"There was just something about the way that he played the game. There was a little bit of [John] McEnroe in there. There was always going to be a little bit of controversy," said the 1985 world champion.
"If he could get the referee going a little bit he seemed to be able to play better, if the caused a little bit of havoc sometimes.
"But that was Alex. That made him unique."
Six-time world champion Steve Davis said Higgins was seen by snooker authorities as a "rebel" and a "constant source of argument".
'Inspiration'
"But to the wider public he was a breath of fresh air that drew them in to the game," he said.
"He was an inspiration to my generation to take the game up. I do not think his contribution to snooker can be underestimated.
"He was quite a fierce competitor, he lived and breathed the game, very much a fighter on the table."
Northern Ireland Sports Minister Nelson McCausland said Higgins "was a legend in the game of snooker and one of Ulster's great sportsmen".
"His style of play reshaped how snooker was played and his talent captivated snooker fans around the world," he said.
Higgins' former personal assistant, Will Robinson, said they had shared more good times than bad together.
"Alex did have his problems, but so did many other great people from Northern Ireland," he said.
"Alex liked to play hard, he liked to party hard, this was one of the things that came from his great success."
Recent newspaper pictures showed a painfully thin Higgins in Spain after his hopes of having surgery to get new teeth had been dashed.
Higgins lost all his teeth during his cancer treatment but was not deemed fit enough to have the surgery.
He had been suffering from throat cancer for more than a decade, and blamed his illness largely on the cigarette makers who sponsored his sport.
His weight had reportedly plummeted to only seven stone as he had to have all his food pureed because eating in a normal fashion had become too painful.
Friends had raised around £20,000 to enable him to have the surgery in Spain, but doctors there deemed him too frail for the operation.