Police given more time to question gun suspects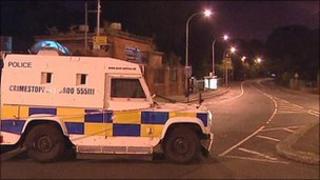 Police have been given more time to question five men who were stopped in a car in west Belfast shortly after a paramilitary style attack.
The police seized two guns when the car was searched on the Falls Road on Thursday night
A magistrate in Antrim granted police an additional 72 hours to question them.
Officers stopped the car after an incident a few minutes earlier on St James Road.
It is understood a man was the target of a so-called punishment shooting in a house. It is believed that although a shot was fired, he was not injured.
The arrests took place during a police follow-up operation.
Dissident republican paramilitaries have been responsible for a series of similar shootings.
Army bomb disposal experts were called to examine the car that had been stopped.