Motorcyclist, 41, dies in north Belfast road crash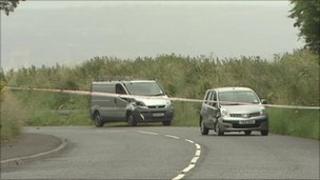 A 41-year-old motorcyclist has died following a crash in County Antrim.
The collision happened on the Upper Crumlin Road on the outskirts of north Belfast on Sunday afternoon.
The crash, which involved a motorbike, a car and a van, happened about half a mile from Horseshoe Bend.
The Crumlin Road in the area has re-opened after earlier being closed to traffic.