Sense of style - 'The Hurricane' at the cutting edge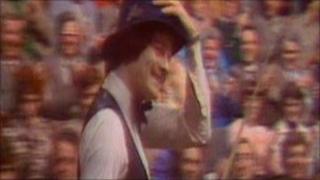 The sight of Alex Higgins raising his hat to audiences at Sheffield's Crucible Theatre is one of the enduring images of 'The Hurricane' in his pomp.
Few knew the snooker legend's sense of style better than renowned Irish tailor Louis Copeland.
The Dubliner has dressed everyone from Hollywood actors to rock stars since following his father into the trade in the 1960s.
He said he had first met Higgins soon after his second World Championship success in 1982.
"I remember Alex came into the shop in Dublin with the trophy, there was plenty of excitement - everybody in Ireland loved him," he said
"We would have provided him with clothes, his fancy hats, his waistcoats, even some spats on one occasion.
"He loved the limelight.
"Alex would have had our initials on his waistcoat and we would have sponsored his clothes for him.
"I think people will remember him as the most exciting snooker player who ever lived."
Buckingham Palace
As well as tending to Higgins' sartorial needs, Copeland said he had socialised with him and been a confidant during the troubled times of his rollercoaster career.
He said he was "shocked, but not surprised" at the news of the Belfast cueman's death on Saturday, following a long battle against throat cancer.
And he described with warmth an encounter with the sporting trailblazer at Buckingham Palace.
"I remember going with Alex to a garden party at Buckingham Palace hosted by the Queen," he said.
"It was for all the people who were number ones in different sports in the UK.
"He had separated from his wife and his daughter was not old enough to go at the time, so he brought me.
"It ended up everyone was queuing up to get his autograph - all these sports stars.
"Even the guards at Buckingham Palace were queuing up to get his signature. They were getting the inside of their hats signed.
"He then asked the guards if there was a snooker table that he could give an exhibition on."
The businessman also recalled 'The Hurricane's' aptitude for a pithy one liner in the eye of a media storm.
"I remember that time when he lived in the caravan at the back of his then girlfriend Holly Haise's house," he said
"That morning it was all over Sky News that he had been stabbed, so in the afternoon I rang him.
"I asked 'How are you?', and he replied, 'Babe, I have been stabbed so many times in the back I didn't even feel it'."
Copeland said he had last met Higgins two months ago, at his shop in Dublin's Capel Street.
Despite struggling with the effects of his illness, he said the snooker stylist's lust for life remained undimmed.
"When he came down to visit us, he would always go to the Boar's Head pub across the road and then into the bookies, because he was a compulsive gambler," he added.
"He still did that the last time, he totally lived life on the edge."