Thousands join Croagh Patrick holy mountain climb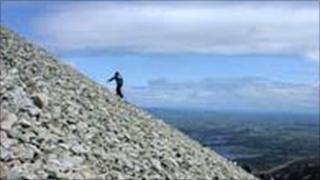 Up to 20,000 pilgrims climbed Ireland's holiest mountain - Croagh Patrick - on Sunday.
They were continuing a tradition dating back 1,500 years. It is understood about 16 people were injured during this year's annual pilgrimage in County Mayo.
The climb commemorates St Patrick's ascent to the summit of the mountain.
Hundreds started their journey before dawn, getting to the summit in the dark for the first in a series of Masses.
Climbing conditions were difficult because of thick mist.
At the summit, the Catholic Archbishop of Tuam, Dr Michael Neary, spoke to pilgrims of the importance of maintaining the faith that had kept the tradition alive through many difficult centuries.
He said that faith was never more important than at a time of much doubt and uncertainty and concern for the future
A spokesman for the mountain rescue team said most of the injuries happened on a slippery stretch about three quarters of the way up the mountain.
Barefoot
The tradition of climbing the 764-metre high mountain on the last Sunday in July - known as Reek Sunday - stretches back to 441 AD.
It was then that Saint Patrick reputedly fasted on the summit for 40 days and 40 nights, following the example of Jesus Christ and Moses.
More than 100,000 people visit the mountain every year.
The ancient custom for the most devout climbers has been to make the pilgrimage up the 45-degree slope of loose shale and stones of the mountain "barefoot and blind" -- at night-time and not wearing footwear.