NI people 'lag on mobile phone banking and buying'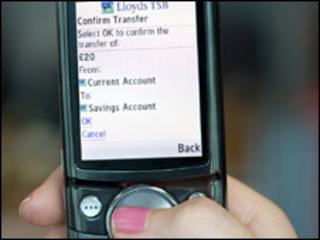 People in Northern Ireland lag behind the rest of the world when it comes to using their mobile phones for banking and shopping, a new report suggests.
Globally, despite fears about privacy and security, more people are using mobiles because it is so convenient.
The worldwide survey was commissioned by KPMG, the accountancy and business consultancy firm.
It found that in just 18 months, the number using their mobile phone for banking had more than doubled.
The numbers rose from just 19% to 46%.
The percentage of those questioned who used mobiles to buy goods and services moved from 10% to 28%.
But in Northern Ireland, just 15% of those questioned bought goods with their mobiles.
And although 58% of people questioned from outside NI said their banks offered mobile banking, that figure fell to 30% in Northern Ireland.
Just over half of those interviewed in Northern Ireland did not know if their bank offered the service.
Jon D'Arcy, chairman of KPMG in Belfast, said: "Privacy remains an important issue and, despite the fact that many consumers seem happy to allow their online usage patterns to be tracked if it means lower costs or free services, they are still expressing more anxiety about data privacy than in earlier studies."
Chasing Revenue
The survey results suggest that consumers may be getting used to the idea that they should pay for online content.
Globally, 43% said they were now willing to pay for access to frequently used online content. Among the Asia-Pacific countries this rises to 59%, with China and India the clear global leaders at 63% and 65%.
Least willing to pay are consumers in the Netherlands, at only 6%, followed by Ireland at 12%, Northern Ireland at 15%, Canada at 15%, and Germany at 17%.
The most popular types of content which people would pay for are video, chosen by 56%, and music, chosen by 53%.
Paid-for music is especially popular among the young, with 61% of 16-24 year-olds saying they would be prepared to pay.