'Coining it' - recession-hit Irish raid piggy banks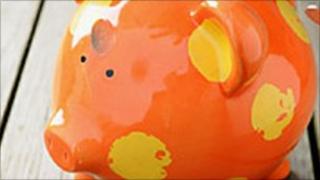 Irish people have literally raided their piggy banks when faced with stringent money saving measures and the longest recession in Europe.
The number of coins issued by the Irish Central Bank last year was less the half of the 2008 total.
At the same time, the bank took 23m euros worth of coins out of circulation in 2009.
This was because of the extra supply from coin jars across the country.
In its annual report, the central bank said that the lower demand for coins "may reflect a reduction in hoarding of such coins as economic activity weakened".
Demand also fell as shops and pubs processed fewer cash transactions in the recession, while commercial banks returned coins instead of paying for storage, according to a report in the Sunday Business Post newspaper.
The Irish finance ministry which is struggling with Europe's biggest budget deficit compared to the size of the economy, had to take a 30m euro charge on the coins to cancel out profits booked on earlier issuance.
"It could be the ultimate measure of how bad things got in the recession," the Business Post said.
"The state has lost money by making money."