Donagh brothers 'not first abusers treated on ward'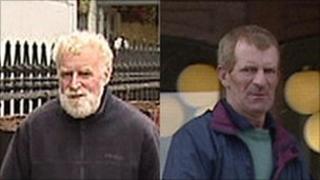 A man whose sister is in the same hospital ward as two paedophile brothers said it was not the first time that abusers had been placed there.
Rory Love said families of young vulnerable adults were told last week that paedophiles had been treated in the same ward in Londonderry before.
The families have called for James and Owen-Roe McDermott to be removed.
But the hospital trust has moved to reassure them that robust protection measures are in place.
Last week, the brothers from Donagh in County Fermanagh, admitted themselves to the psychiatric ward in Derry.
The pair abused children in their village for 30 years.
Parents of the vulnerable adults, who met in Derry on Monday night, say they are considering a sit-in at the Lakeview Hospital if the brothers are not moved away.
Mr Love, from Coa, near Enniskillen, whose sister Mary is on the same ward, said he was very concerned for her safety.
"We were informed just last week that situations such as this had arisen on the ward before," he said.
"It was the first we'd ever heard that paedophiles had been kept on the ward which is a real concern for myself, as a brother, that it's happened.
"It is not just a matter of removing the McDermott brothers, but also making sure that the situation doesn't arise again."
Mr Love said he feared for his sister.
"I was always under the pretence that my sister was in good hands and she was safe at night or at any time for that matter from any sort of abuse. But this is a real concern for me," he said.
One parent, who did not want to give her name, said her 21-year-old son had the mental age of a five-year-old.
"He has Thomas the Tank Engine posters on his wall. All he talks about is a washing machine and a tumble dryer.
"He has the mind of a child and that means he should not be there."
One man said his daughter was being treated just a few feet away from the brothers.
In a statement, the Western Health and Social Care Trust said a meeting with relatives of those at the Lakeview Hospital would be held in the next few days.
Trevor Millar, Director of Adult Mental Health and Disability Services said he wanted to reassure relatives about robust safeguarding arrangements which are in place.
Mr Millar said children and adults were not cared for on the same ward.
"On an ongoing basis, the trust assesses and manages safety and, where necessary, implements robust safeguarding measures to ensure the protection of all children and vulnerable adults in its care," he said.
The McDermott brothers were allowed to return home to the village of Donagh in June after they were declared mentally unfit to stand trial.
Survivors of the abuse welcomed their move to the psychiatric unit but said it would not solve the problem in the long-term.
But Mark Williams Thomas, a child protection consultant and a former detective who has investigated paedophiles cases, said he was "absolutely horrified" at the case.
"I am absolutely shocked that the trust is allowing two sex offenders to be in the same area as children or effectively adults who have been deemed to be children through their mental health. I find that absolutely shocking," he said.
"I do hope that the minister in your country is listening to this and taking some kind of action."
Maureen Piggott, director of the mental health charity, Mencap, said the hospital should share information to calm concerns.
"I wouldn't ask the trust to discuss with the public what arrangements have been made," she said.
"But the parents of the people in hospital and the people in hospital themselves are entitled to hear what arrangements have been put in place for their safety."
Between them, four McDermott brothers, from Moorlough Road in Donagh, faced 60 charges of abuse spanning five decades.
John McDermott was jailed for nine years in June for the abuse, which was described as frequent, regular and persistent.
Peter Paul McDermott took his own life during his trial on abuse charges involving two young boys.
The other two brothers, James and Owen-Roe, were given lifetime orders banning them from being with children, and a two-year treatment and supervision order placing them in the care of social services.