Roving stones return to Comber home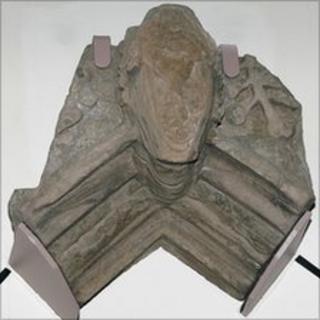 The last known remains of Comber Abbey have returned home after 500 years.
The 19 pieces of carved Scrabo sandstone are thought to be all that is left of a Cistercian abbey built more than 800 years ago on the site of what is now St Mary's Church.
The Comber Abbey Stones, as they are known locally, spent much of the previous century as part of The Monk, a garden sculpture in the grounds of Aureen House, just across Comber Square from St Mary's.
Erskine Willis, who grew up in Aureen, agreed to donate the stones to the Department of the Environment for their long-term protection and appreciation by present and future generations.
Mr Willis, realised in 2002 that some of the stones used to build the ornament in 1931 were more than just random rocks.
After consulting with Marion Meek and Annie Given, two archaeologists from what was then the Environment and Heritage Service, Mr Willis discovered that the stone used for the head of The Monk was in fact the carved head of a king and had once been the keystone of an abbey window.
"In donating these stones I was anxious that they would be displayed in St Mary's so that the people of Comber, and indeed the wider public, could view them and be reminded of the Christian heritage of Comber," said Mr Willis.
The abbey, built by Welsh monks in 1199, was surrendered to the Crown in 1543 after Henry VIII dissolved the monasteries.
The abbey was then dismantled and the stones used by builders and farmers around Comber.
Welcoming the return of the stones to their original location the mayor of Ards, councillor David Smyth, said the stones were a valuable addition to the "already significant historical and archaeological interest" in the area.
"I'm delighted that they can now be enjoyed by the wider public," he said.
The church is normally open during daylight hours for visitors and the Comber Abbey Stones also form part of a Comber Historical Walking Tour taking place on 5 August.