Around Ulster in a kayak - seals, dolphins and scares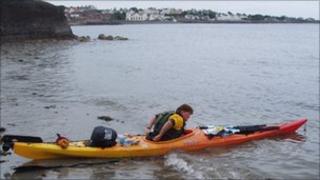 It was an adventure of highs and lows.
Elaine Alexander took 26 days to paddle around Ulster in a kayak.
The highs of the trip were when a pod of dolphins paddled along beside her and seals were her guide through caves and arches on the Donegal coastline.
The lows were when her kayak rolled on the breaking surf and the coastguard helicopter was scrambled to watch over her as she struggled not to capsize.
Elaine set out to paddle the 350 miles around Ulster in her kayak on 26 June. She left from the Share Holiday Village, Lisnaskea, where she has worked for the last 15 years.
Her long term mission is to help raise funds for the charity - a recreation facility for disabled and non-disabled people - which was badly damaged in last year's floods.
The leisure suite and gym were worst affected with damage estimated at about £700,000.
There were hairy moments on her journey.
On the Antrim coastline she passed a boat which must have radioed the Coastguard.
"On arrival at Cushendun, I saw a coastguard van close to the shore that was checking to see I made it safely.
"It is funny that the first two things people say to you after you come ashore are: 'What are you doing out in weather conditions like that?' When they hear about my expedition, they ask: 'Are you mad?'"
Her round trip of 26 days ended back at the Share centre.
Elaine's long-term goal is to paddle 1,000 miles around the coast of Ireland in 2011 - a challenge which should raise much-needed funds for Share.