Film plans for 1975 Miami Showband massacre story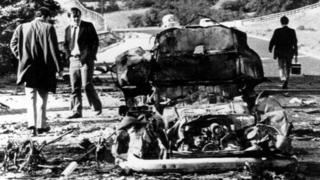 The story of the 1975 Miami Showband massacre is to be made into a film.
Three members of the popular band were taken from their tour bus and shot dead on a country road after a gig in Banbridge, County Down, on 31 July 1975.
They were waved down by a group of armed men in army uniforms at a bogus checkpoint outside Newry.
It was a loyalist paramilitary gang, the Ulster Volunteer Force (UVF), who had planned to load a bomb on to the bus and have it explode as the band drove south to Dublin.
The murders, which happened 35 years ago this week, remain one of the darkest atrocities of recent Irish history.
The band's popular lead singer Fran O'Toole, guitarist Tony Geraghty and trumpeter Brian McCoy were killed after their minibus was flagged down by UVF men who were also members of the Ulster Defence Regiment (UDR) at Buskhill, north of Newry, in the early hours of the morning.
While the band members were lined up outside, two UVF men attempted to plant a bomb in the van.
It exploded prematurely, killing some of the would-be bombers. The rest of the gang then opened fire on the band members.
Singer Des Lee and guitarist Stephen Travers survived the tragedy, despite being shot.
A book - The Miami Showband Massacre: A Survivor's Search for the Truth - which was written by Mr Travers and journalist Neil Fetherstonhaugh, was published in 2007.
So long after the attack, Stephen Travers said he had been surprised by the level of interest shown by film companies. But he wanted the right kind of film to be made.
"I waited 30 years to write the book, so I'm in no great hurry for a film," he said.
"But since the book came out, we have had six different companies - two in Ireland, two in the UK and two American companies - approach us about the film rights.
"We signed an option on December last. If we are happy when they put everything together we will go with it. But it is such a sensitive subject. You have to be very careful."
The option is with Regent Street Productions, based in London and Beverly Hills.
Mr Travers said he knew producer Tom Jennings would not sensationalise the story.
"Too many films glamorise war and destruction," he said.
"The Miami story is unique in so far as that it can glamorise peace or make it look cool.
"Hopefully, if somebody can see a good film done well and not turned into some Rambo-esque type movie, that is where you have got to be careful. Regent Street Media sees the balance... it will not be a blood type movie.
"If we can make some young fellow come out of the film theatre and say; 'It's cooler to take up a bass guitar than a bomb,' or 'I'd look better in a band suit than a balaclava,' then that is when we succeed."
At the time of the bombing, it is thought the UVF intended to smear the band as bomb carriers and damage all showbands by association.
However, the bomb exploded as it was being loaded on board, killing two of the UVF men.
Three Ulster Defence Regiment soldiers were sentenced to 35 years in prison for their role in the killings.
In court the judge said the death penalty would have been imposed had it not been recently abolished.
"You have got to get a balance," said Mr Travers on Tuesday, as the 35th anniversary approached.
"The incident on that night - that just took place in one day - whereas what the band brought to people lasted a long, long time, many, many years.
"If we can get some young fella to change his mind and to do something like we did rather than what the bombers did... we are on to a winner then."