Movies bring £20m to NI economy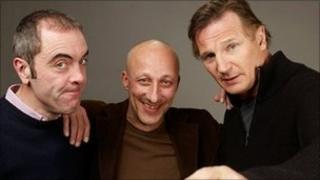 The film and television industry in NI has brought £22m of investment to the economy in the last year.
According to figures released in Northern Ireland Screen's annual report for 2009-2010 this is a return on an investment of £3.9m.
That works out at more than £5 generated for every £1 spent.
Your Highness, a major feature film from Universal Pictures shot in Belfast's Paint Hall, brought in £11.78 million of the total.
The news came as principal photography began in Belfast on the HBO series Game of Thrones.
Richard Williams, chief executive of Northern Ireland Screen, said the series is predicted to inject a further £20m into the local economy.
"The decision by HBO to base the series here further cements our reputation as a leading centre for film and television production," he added.
Northern Ireland Screen was established in 1997 to promote the sustainable development of a local film, animation and television production industry.
Mr Williams said that Northern Ireland Screen's success illustrated that screen and creative industries could "play a pivotal role in the re-imagining of our local economy".
Northern Ireland Screen is part-funded by the UK Film Council which the government has recently marked for closure.