PwC responded to illness with scepticism, tribunal told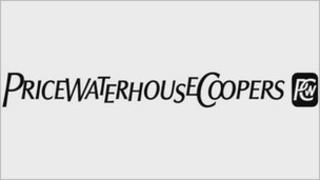 PricewaterhouseCooper's treatment of a partner suffering from depression was "a lesson in how not to respond to mental illness", a tribunal has heard.
Colin Tenner is suing the accountancy firm for £1m in lost earnings.
Mr Tenner is claiming compensation for disability discrimination after he was made redundant in February 2009 while on sick leave.
PWC have said his role became redundant due to the economic downturn, not because of his disability.
In his closing statement to the industrial tribunal in Belfast on Tuesday, Mr Tenner's barrister, Dan Stilitz, said his client's illness had been met with "denial, unfounded scepticism, ignorance and ultimately bad faith" by senior partners in PwC.
He said the doubts and scepticism arose directly from the nature of Mr Tenner's disability, which was mental breakdown.
Mr Stilitz said if he had been suffering from a physical disability he would have been treated much more sympathetically.
He said an investigation would have been started if a physically disability had been caused at work and steps taken to ensure a safe workplace.
This did not happen in the case of Mr Tenner's mental disability, despite the fact it was caused by work-related stress, he said.
He said PwC had agreed to an untenable deadline on a project headed by Mr Tenner at the behest of a client, putting immense pressure on the claimant.
'Macho culture'
The barrister said an email from a senior partner saying that "real partners don't get sick" was typical of the macho culture that existed at the top levels of the firm in Northern Ireland.
Mr Stilitz said it was clear from other emails sent between senior partners in the summer of 2008 that they had decided Mr Tenner should be let go - months before the redundancy process officially started.
He described the redundancy business case as a "complete stitch-up" and said the offer of an alternative role in London was a "charade made in bad faith as window dressing".
It had been pitched to Mr Tenner as a full-time, five day a week job, which due to Mr Tenner's illness and the fact his mother had recently suffered a stroke and needed looking after, the partners knew Mr Tenner would not take, the barrister said.
Economy
However, Suzanne McKie QC, representing PwC said it was "simply a case of a person's role being made redundant because of the economy, not because of his disability".
She said the public-private-partnership division Mr Tenner headed was not doing well and the "public sector in Northern Ireland was hit particularly hard" by the economic downturn.
She also said "you cannot say because a firm is doing reasonably well you don't make people redundant".
Mrs McKie said restructuring was being planned and in an email to senior partners in September 2007 during his sick leave Mr Tenner had used the words "if I come back".
Therefore it was reasonable for the partners to discuss his possible exit from the company, she said.
As regards some of the emails cited during the tribunal she said "who hasn't or doesn't misspeak at times in emails".
She said the email about real partners not getting sick was meant as a joke as it was the sort of thing that people said about equity partners.
Some of the partners were "pretty contrite" about some of their emails, but was was striking was that none of those emails mentioned Mr Tenner having a disability, even though they did not think they would be read by anyone other than who they had been sent to, she said.
Mrs McKie said in the period being discussed four other partners had left PwC in Northern Ireland and two others had gone to Great Britain for work.
The barrister accused Mr Tenner of changing his evidence four or five times.
While this could be put down to the stress of the hearing, she said, it was "extremely stressful to be accused of discrimination as well" which should be borne in mind in regards to other people's evidence.
Judgement in the case is expected in the autumn.