Trust admits communication failing over abusers on ward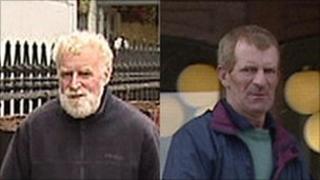 Families of patients on the same hospital ward as two paedophiles say the Western Health Trust has apologised for a "lack of communication".
Brothers James and Owen-Roe McDermott abused children in Donagh for 30 years but were declared unfit for trial.
They are being treated on a psychiatric ward alongside young vulnerable adults at Lakeview Hospital in Londonderry.
After meeting health officials, the families reiterated their call to remove the brothers from the ward.
They said a number of options to resolve the situation were being considered, and another meeting is due to take place next week.
The trust says robust measures have been put in place to protect patients on the ward.
Protests
The two brothers were allowed to return home to the village of Donagh, County Fermanagh, in June after they were declared mentally unfit to stand trial.
They admitted themselves to Lakeview after village residents protested at their return to the area where they had committed the abuse.
Between them, four McDermott brothers, from Moorlough Road in Donagh, faced 60 charges of abuse spanning five decades.
John McDermott was jailed for nine years in June for the abuse, which was described as frequent, regular and persistent.
Peter Paul McDermott took his own life during his trial on abuse charges involving two young boys.
James and Owen-Roe McDermott were given lifetime orders banning them from being with children, and a two-year treatment and supervision order placing them in the care of social services.