Security for judges costing £5m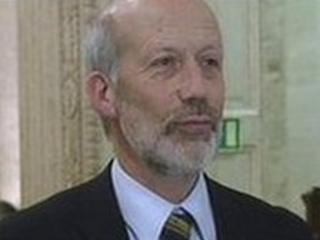 The total annual cost of providing security for judges in Northern Ireland is nearly £5m.
Justice Minister David Ford revealed the figure in response to a question by Lord Morrow in the Assembly.
Mr Ford said the cost of police protection for crown and high court judges in 2008/09 was more than £4.77m, with £85,588 being spent on district judges.
The security bill for the NI Court Service was £40,589.
There were no figures available from the PSNI for the cost of protecting judges in 2007/2008.
The figures for 2008/09 come against the backdrop of increasing dissident republican activity.
One of Northern Ireland's top judges moved out of his Belfast home in December 2009 over fears of a dissident republican threat against him.
Mr Justice Treacy's house in the Donegall Park Avenue area was bought under the Housing Executive's Special Purchase of Evacuated Dwellings (Sped) scheme.
In September of that year, a pipe bomb found close to the house was made safe by Army experts.
The bomb was found on the same day Justice Treacy jailed three men involved in a plot to kill police officers with a mortar bomb in Lurgan, County Armagh, in April 2007.
At the time, police said they believed the men were members of the Continuity IRA.
In November 2009, it was reported that judges in Northern Ireland had to increase their security arrangements due to the increased threat posed by dissident republicans.
In the same month, the Independent Monitoring Commission (IMC) said that the dissident threat was at its highest level for almost six years
Earlier in the year, The Real IRA had shot dead Sappers Patrick Azimkar and Mark Quinsey at the Massereene barracks in Antrim on 7 March.
The Continuity IRA were behind the murder of Constable Stephen Carroll in Craigavon, County Armagh, two days later.