Escaped coati still missing from Belfast Zoo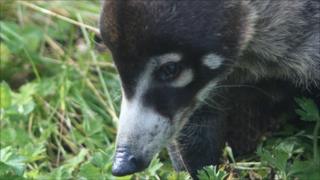 A racoon-like creature which absconded from Belfast Zoo more than a week ago is still on the loose, the zoo has confirmed.
The white-nosed coati from Belize escaped on Monday 19 July. A spokesperson for the zoo said there had been no reported sightings of it.
The mammal was being held in quarantine after just arriving at the zoo.
It had been hoped the female would take part in a breeding programme with several other coatis recently imported.
The zoo stressed that all animals are kept in quarantine as a precautionary measure before being allowed to enter the general zoo population.
The coati is about the same size and shape as a raccoon and is omnivorous - eating leaves, fruit, small rodents, birds and eggs.
Like the raccoon, they can also adapt to humans, raiding bins and campsites.
They are mostly diurnal - sleeping at night and active during the day.
"Coatis are generally timid however if anyone sees the coati they are advised to contact the zoo immediately and not attempt to approach or catch the animal," the zoo spokesperson added.
Anyone who sees the coati should contact the zoo on 02890 776277.